Gerhard Richter's October 18, 1977
An exhibition by Gerhard Richter
Permanent Collection / Museum of Modern Art
Gerhard Richter's 15-painting cycle is quite simply one of the most important works of art of the second half of the 20th century. Now in the permanent collection of the Museum of Modern Art, the collection of black and white oil paintings drew from ubiquitous photographs of the Baader-Meinhof era. Angering the German public when it first appeared in the late 1980s, it has become recognized as Richter's masterwork.
The complete paintings and their source photographs
Interview with Robert Storr, MoMA Curator/Dean of Yale Art School
Listen to an interview with the man who brought the Richter cycle to America
Analysis
by Richard Huffman / April 2002 "Gerhard Richter is a bullshit artist masquerading as a painter," writes Jed Perl in the lead sentence to a cover story about Richter in the April 1, 2002 issue of the New Republic. Perl's commentary goes downhill from there.
Daniel Kunitz, writing in slate.com, is a little more balanced. Kunitz takes Richter down a notch or two, but generally reaffirms Richter's importance and talent.
Both articles arrive on the eve of a major retrospective of Richter's work at the Museum of Modern Art. The centerpiece of the exhibit is Richter's 15-painting cycle, "October 18, 1977," which explores the imagery associated with the Baader-Meinhof era. MOMA added the cycle to its permanent collection recently, and the retrospective serves as its coming-out party.
Richter's work almost defies analysis. Is it art? Jed Perl doesn't seem to think so. He indicates that Richter's technique of tracing photographs as source material for his work implies a mind devoid of artistic creativity. Kunitz recognizes the coldness, but sees a method to Richter's madness. He also recognizes a power from viewing Richter's work in person.
Robert Storr, the curator of the MOMA collection and the person who both secured the purchase of the "October 18, 1977″ cycle and organized the Richter retrospective, certainly believes that Richter is among the most important contemporary artists. Storr understands that Richter's work can be interpreted as sham or art; his 152-page book about the "October 18, 1977″ cycle is essentially a book-length justification for spending such a large sum of the Museum of Modern Art's money on a man who hasn't quite yet been consensually accepted into the pantheon of great modern artists.
Storr's book is flawed in that he offers supposedly dispassionate analysis of the controversy over MOMA's acquisition of the Richter cycle without acknowledging his central role in the decision to acquire the works. "In June 1995," writes Richter, "to the surprise of close observers of the scene as well as the public at large, it was announced that October 18, 1977 had been acquired by the Museum of Modern Art for an undisclosed sum." This Clintonian "mistakes-were-made" dissociation continues unnecessarily throughout the book when Storr describes the facts surrounding his purchase.
But this is a minor quibble. When analyzing the actual artwork, Storr succeeds in his argument. Through an in depth exploration of Richter's technique, his critical reputation, and his choice of subject matter, Storr clearly demonstrates Richter's importance as an artist and the importance of his art. Perl just as clearly disagrees; his New Republic piece feels so angry at Storr that I can't help but wonder if Storr and Perl had a childhood falling out and Perl is nursing a lifelong grudge.
The vast majority of Richter's work is immediately accessible. Even the most uncomplicated minds can grasp the cold emotional impact of his fuzzed renderings of contemporary photos. Further context behind the subjects of his paintings is not generally necessary.
But "October 18, 1977″ is altogether different. This is a work that is all about context. It is a collection derived from imagery that would have been instantly recognizable to a German who viewed it in the late 1980s. Had he chosen American imagery of a similar time period, one can imagine a painting of Patty Hearst, in full Tania garb, with a beret and a rifle, leaving the bank she had just robbed. One can imagine a grief-stricken girl, her arms outstretched as she hovers over the body of her dead friend on the campus of Kent State University. Richter's images of a glamorous Ulrike Meinhof, the prone body of a dead Andreas Baader, the giant funeral of Gudrun Ensslin, Jan-Carl Raspe, and Baader–these had all been similarly burned into the cerebral cortex of the German who viewed Richter's work for the first time in the late 1980s.
And the story that they told was entirely contemporary. Though "October 18, 1977″ featured imagery that was a decade old by the time of his first exhibition of the work, in the late 1980s the Red Army Faction was at its deadliest; ten years after the events of Death Night West Germany was still struggling with the legacy of the Baader-Meinhof Gang. It was impossible to view the works with a dispassionate eye, any more than it would be possible to objectively view a retrospective of modernist portraits of Osama bin Laden in New York City in 2001.
But this, of course, is the great challenge of the work. Whereas West Germans of the late 1980s could not look at the works dispassionately, a contemporary New York audience has precisely the opposite problem. "October 18, 1977″ clearly has a shelf life, at least as 1980s analyses of the work go, and the further that the work travels from its geographic and chronologic home, the more the context disappears.
Visitors to the work at MOMA can read detailed placards explaining the paintings. They are also encouraged to buy Robert Storr's book for a more accurate and nuanced understanding. It's not hard to see why: if a visitor wasn't told the subject of the exhibit, he or she would be hard pressed to know what it was about. Even where Richter's source photos were fairly clear cut, such as Baader dead with his face tilted back in a grimace, the resulting painting becomes blurry and indistinct; even if the viewer could recognize that the subject was a dead body, the painting offers no indication of who he was or the context of his death.
Others paintings seem even more obscure to contemporary American viewers. The filled-to-bursting bookshelf? The record player? Where are they from? Why did Richter choose them? The 1980s German would have recognized the bookshelf as Baader's, and understood from press reports that it was filled with dozens of volumes of Marcuse, Horlemann, Marx, Engels, Guevara, and Debray, countering the common perception of Baader as a violent poseur. The record player: symbolic of the freedom enjoyed and exploited by these pop culture heroes. But for a modern American audience, they are simply a bookshelf and a record player, evoking nothing.
One doesn't need a placard explaining the background of the Mona Lisa to appreciate it. One doesn't need to have Monet, or Picasso, or Rembrandt explained. So, the argument goes, having to fully contextualize a work that was designed to be presented without context means that the work utterly fails.
I'm not so convinced. Experiencing art benefits from contextualization. Even works by acknowledged masters like Monet, Picasso, and Rembrandt. On a surface level one can enjoy their works for the pure emotions they stir unencumbered by context. But our learning and appreciation is deepened by understanding the context in which the work arose.
That said, devoid of context, Richter's cycle is cold, dreamy, and fundamentally, brilliantly, sad. His technique–or crutch, as Kunitz calls it–of blurring the details of the two-dimensional worlds of found photographs, renders life somehow inert. It certainly puts a distance between the viewer and the viewed; great tension is generated as we are pushed away from subjects that would normally draw us in. Unlike old masters, the only way to discern more detail from Richter's work is for us to move further away.
That was clearly Richter's plan.
==
Gerhard Richter –  Compilation of Critical Essays
======
Blurring Boundaries
Gerhard's Richter's work is often divided into photo-based painting and abstraction. This division is contested in a much-anticipated restrospective opening this month at London's Tate Modern
Mark Godfrey, Saturday, 1st October 2011
Gerhard Richter (b. 1932), whose work is the subject of a retro-spective at London's Tate Modern this autumn (6 October–8 January 2012), has always been interested in abstraction. He experimented with abstract forms while a student in Dresden, and was famously impressed by the radical work of Jackson Pollock and Lucio Fontana when he visited Documenta 2 in 1959. After his move to Düsseldorf in 1961, Richter created paintings resembling Informel works but rejected these from his catalogue raisonné when he began to archive his paintings later in the decade. In 1967 he made a little-discussed series of 23 small paintings which show him playfully working through all the languages current in American Abstract Expressionism and minimal painting. One panel has an emphatic paint stroke, another is made with overlapping bands of grey paint; there is a painting showing right-angle lines placed at regular intervals which appears to quote Frank Stella's 1961 paintings, and a panel called Bunt auf grau which features a splatter of paint against a background crossed by strange hazy curves.
Richter was also confounding the distinction between abstraction and figuration early on: in Tisch (1962), his first photo painting, the image of the table is partially obscured by gestural strokes created with solvent. By the late 1960s he had painted townscapes and mountainscapes in such a way that the images of cities and mountains were discernable only from a distance, and dissolved into brushwork when the viewer approached. Richter also associated abstraction with the readymade – he based his first group of 'Colour Charts' from 1966 on paint sample cards found in a Düsseldorf paint shop, suggesting that abstraction could be found in the world of the everyday.
Richter worked on many series of grey monochrome paintings in the mid-1970s sometimes using a brush, and elsewhere using a roller. He wrote at the time that 'grey is the welcome and only possible equivalent for indifference, non-commitment, absence of opinion, absence of shape.' The 'Colour Charts' from this moment of the mid-1970s (unlike those of 1966) were based on numeric and chromatic systems, as well as on chance: Richter would take the three primaries and grey, and mix them in predetermined increments to produce 1,024 shades. The shades were arranged according to chance procedures: as with the 'Grey Paintings', these 'Colour Charts' indicate Richter's hostility towards expressive paint handling and his sense at that time that to compose colours according to harmonies was a meaningless pursuit. In 1970, Richter also painted his series of 'Details', which were enlargements of photographs of swirls of oil paint, and 'Clouds', which he seems to have been drawn to because they were natural phenomena close to abstraction in that their shapes are always changing.
Richter had completed many different series of abstract works by 1976, and yet it is only this date that he names as marking the beginning of his ongoing series of 'Abstract Paintings'. This is because he sees the work of 1976 as marking a break with the 'Grey Paintings', even though there were strong connections between the 1976 works and the 'Details' from 1970. Whereas the 'Details' were derived from photographs of single swirls of monochrome oil paint, the 1976 paintings were based on photographs of polychrome oil sketches. These 'sketches' were freely painted collections of small brushstrokes on top of smooth atmospheric backgrounds. Richter would crop the photographs, project them onto a bigger canvas at an enlarged size, trace around the projected image, and create a painting based on the traced forms. For all its strange beauty, there is a polemical side to a work such as Abstraktes Bild (Abstract Painting; Fig. 3): the painting was made just as Gestural Expressionism was returning to European and American painting with all the attendant rhetoric about subjectivity, bravado, and spontaneous painting processes. Richter's abstract, by contrast, is the result of a series of mediations and transformations. Looking at it, we cannot really identify what we are seeing, nor do we have a clear sense about the scale of the original paint strokes.
In the early 1980s, Richter relinquished the idea of basing his major abstractions on photos of smaller paintings, and while this turn was described by some critics as a sign of Richter's freedom and personal joy, others such as Benjamin Buchloh argued that Richter was extending his critique of expressionist painting. Whereas many artists at this time attempted to compose colours according to subjective preference, it was suggested that Richter's colour combinations were deliber-ately absurd. Whereas other painters returned to gestural paint handling, Richter filled his works with a range of marks (atmospheric backgrounds, floating geometric shapes, broad brushstrokes, paint applied with a roller), so as to demonstrate the rhetoric of painting, and to indicate that the possibilities open to abstraction were mere possibilities – exemplified by Eule (Owl), from 1982 (Fig. 2). If the various modes of painting present in Richter's work recalled moments from the history of abstraction, their co-presence in the final painting indicated that the utopian promises associated with these different moments of abstraction were impossible to revive in the present. Richter's paintings could serve to remember the history of abstraction, but also to emphasise its irretrievability.
It was around this time that he began to use a tool that has become associated with him ever since – the squeegee. Richter's squeegees are thin rectangular sheets of Perspex fixed at right angles to a wooden handle. The squeegee pulls paint across the surface of a canvas, and as it does so, it wipes it off, but never perfectly. Richter paints a single panel in many campaigns, applying paint to the canvas with a brush or dabbing it on with the squeegee, and then working over the surface with a squeegee: each layer represents a moment of time during the long creation of the painting.
The squeegee produces a range of material and visual effects depending on factors such as the pressure exerted by the artist, the elasticity of the canvas at different points on its surface, the heaviness of the paint and its oil-to-pigment ratio. After a few layers, the canvas surface will be uneven with raised accumulations of paint and thinner areas: as the squeegee passes over now, the oil paint splits over thicker areas producing yawning tears showing through to the under-layers made at earlier moments, or glides more easily over lower areas creating streaking thin lines of pulled paint. It should be said that the final surfaces of many of the best squeegee paintings show brush marks, scrapings made with the wrong side of the brush or a knife, and patches of congealed paint with peculiar creases and wrinkles.
The squeegee could be described as a rather mechanical tool. Certainly it is true that it removes personalised brushwork and creates instead striations and tears that could not be made by hand. The unpredictable surfaces it produces are chance outcomes and one might therefore align Richter's squeegee paintings with his lifelong interests in chance which are more clearly evidenced in his 'Colour Charts'. And what does it mean to make a painting through a series of erasures rather than by additive composition? There is a kind of negativity and even brutality implied by this method: the final painting is what Richter found to be the tolerable end-point of a series of destructive erasures, each one ruining the painting as it had existed at that moment, rather than an end that was planned out, projected, and pursued from the beginning of the work. Another negative dimension of the series of squeegee paintings emerges if we recall the size of the series as a whole. The sheer proliferation of squeegee paintings suggests that Richter has been subjecting the idea of the masterpiece to critique and also that he has positioned painting between mass production and individuality. There are hundreds and hundreds of squeegee paintings, yet each one is extremely different. Our appreciation of the individuality of each work is somewhat tarnished by our knowledge of the size of the series: the specific appearance of a single work can seem a bit meaningless because there are so many other paintings that are equally similar, and equally different.
Many art historians, curators and critics have addressed these points when writing about Richter's abstract paintings, particularly Benjamin Buchloh in a series of wonderfully insightful essays. Richter himself has never really produced an overall theory of abstraction, but has provided some intriguing texts and statements. One of the first texts from 1982 described the paintings as 'fictive models [that] make visible a reality we can neither see nor describe, but whose existence we can postulate'; in 1986; he told Buchloh that the paintings were for him 'models of society… pictures that are about the possibility of social coexistence' (the paintings Richter was making at the time featured different kinds of strokes, colours, and surfaces, and were not exclusively made with a squeegee). Writers have grappled with these and other of Richter's statements about abstract painting, but one component of Richter's own commentary about his abstract paintings tends to be ignored. This is Richter's contention that the paintings remind him of phenomena from the visual world and particularly from nature, his insistence that 'we only find paintings interesting because we always search for something that looks familiar to us. I see something in my head and try to find out what it relates to.'
In 1986 Richter told Buchloh that the paintings 'remind you of natural experiences, even rain if you like. The paintings can't help functioning that way. That's where they get their effect from, the fact that they incessantly remind you of Nature, and they're almost naturalistic anyhow.' By the time Richter made this claim, he had already been using titles like Clouds and Birds, and he would go on to call groups of paintings Forest and River. Richter's titles do not usually indicate that the painting resembles the entity named in the title, but instead that it recalls the experience of looking at that entity. For instance, Wald (Forest) 3 (Fig. 4) does not look like a dense group of trees, but is reminiscent of what it is like to look about in a forest, when your gaze is caught up with the near and far at once.
To understand why critics have largely ignored Richter's tendency to make these connections, one might recall the reception of Jackson Pollock's titles such as Autumn Rhythm and Lavender Mist. Though these titles were actually given by Clement Greenberg, modernist critics (himself included) wanted to stress the achievements of Pollock's work in terms of forms and processes and feared that these literary and metaphorical titles would encourage facile readings of the paintings. Viewers (they thought) could fixate on these titles and the paintings might be reduced to them. The spills and splatters of Pollock's paint would no longer be seen as radical assaults on the verticality of painting, and instead would be viewed as landscape effects. Just so, the critical negativity of Richter's abstractions would be undermined if we concluded our account of them by saying some look a bit like waterfalls. But is there a way to think about this approach to abstraction more subtly?
Recently Kaja Silverman has been more prepared to look at Richter's willingness to think about his paintings in these terms, and she has argued that this is one aspect of the artist's tendency to make analogies in his work. Richter (she argues) brings unlike things together whether photography and abstraction, abstraction and landscapes, the victims and oppressors of history, always asking how they might be similar rather than opposed. Her argument touches on a series of diptych paintings titled January, December and November. Silverman builds from the fact that Richter's series of works about the Baader-Meinhof group are sometimes referred to as the October paintings and she relates the colours of these three works to those grisaille works. She also notes that they were made just before the moment of Germany's reunification and the collapse of the Berlin Wall and like others, she indicates that the paintings express considerable ambivalence on Richter's behalf about the rebirth of a united Germany.
Silverman's reading is sometimes a bit far-fetched (she writes of November that in it, 'Ennslin's ghost still shines through') but it is welcome, especially because the more one thinks about the large series of squeegee abstractions, the more one realises the limits of overarching arguments about the signifi-cance of the squeegee, about chance, about erasure and mechanical processes, and about the relationship of Richter's paintings to the history of abstraction. Quite simply, these arguments do little to articulate why some paintings are more compelling than others, and what makes certain paintings so powerful. Silverman starts off this section of her account by stating that Richter's series of diptych paintings, January, December and November, are for her the artist's 'greatest abstract works'. I personally adore many groups within Richter's squeegee abstractions including the three 849 paintings from 1997 with their purple tones and peeled-away patches, and the jewel-like eight-part 858 series which were made on small aluminium panels so as to produce hair-thick striations of an unbelievable colour range. Yet there is a particular group of four large works made in 1989 that I consider to be the absolute pinnacles of Richter's achievement with abstraction: Atem (Breath), Kurs (Course), Fluss (River) and Fels (Rock); (Figs. 1, 5 and 6).
These four paintings are all made on vertical canvases three metres high by two-and-a-half metres wide. This towering and imposing format is important to their meaning, and differentiates them from other squeegee works which are either landscape in orientation or square. In these four works, as in others, the squeegee produces different effects over the surfaces. Striations, rips and flecks characterise other paintings but in all four of these, the final pull of the squeegee travelled downwards rather than across and so the striations and tears and flecks travel downwards too. Again, this is different to other works from this time – horizontal and vertical canvases – where the final squeegee move was lateral.
We can be more specific about the character of Richter's downward rips in these paintings if we compare them to other downward drifts in post-war abstraction: the Abstract Expressionist drip, the trammels in Morris Louis' Unfurled paintings, and then the drooping wall-based sculptures that Eva Hesse, Robert Morris and Richard Serra were making around 1967–68. The drip running off a brushstroke in a painting by Kline or De Kooning is an unintended result of loading a brush with too much paint and wiping it across a surface very quickly: it is retained on the surface to signal the spontaneity of the painter's movements. By contrast, the downward trails of thinned acrylic paint in Louis' works are intensely controlled and created in the service of careful colour combinations: they no longer signal bravado. Finally in post-minimalist works such as Richard Serra's Belts, Robert Morris' Felts and Eva Hesse's Aught, materials tumble to the floor as gravity acts on them. Here we are less inclined to think about the artists' subjectivities or compositional facilities, and indeed these have become irrelevant: instead we are faced with real materials which collapse because of their material properties.
Richter's downward squeegee pulls signify in different ways from all these models: unlike the abstract expressionist gesture, the squeegee drag is slow, not quick; the paint does not travel because it is liquid, but because it was dragged down. Unlike Louis, Richter cannot really control the appearance his movement will produce. And unlike the post-minimalist collapse, there is more going on here than a painterly process and an exploration of materiality. Richter's paintings produce associations with a range of ideas and effects connected to this downward pulling, and these associations are so powerful because with their scale the paintings make us feel a sense of a downward pull so viscerally.
The titles draw out these associations too, but not primarily because of a simple resemblance between the painting and the natural entity the title names. There is first a material connection between the title and the painting: looking at Fels (Rock), you have a sense of the mineral quality of Richter's paint and recognise pigment as ground rock; looking at Fluss (River) one feels that the flow of a river over rocks is physically similar to the pulling of paint over a bumpy ground. More significantly, the titles help us to articulate the effects the paintings produce, but only if we read the words against the grain – Rock, Breath, Course, Flow: looking at the paintings I can imagine being pulled downwards in a river, a feeling of breathlessness, or what it is like to face a vertical and impenetrable rock face and to imagine falling from it.
The 'nature' that these titles summon up is brutal and inhumane rather than cosy and beautiful, and this is the point, I think. It was Richter, after all, who once wrote: 'Nature, in all its forms is always against us, because it knows no meaning, no pity, no sympathy, because it knows nothing and is absolutely mindless: the total antithesis of ourselves, absolutely inhuman.'
It could seem too easy to associate the pulls in Richter's squeegee abstracts with the look of destruction (charred marks on burnt walls, melting metal) or with cultural mourning practices (ripping one's clothes during mourning; the waterfalls in the newly built memorials to the Twin Towers) or with physical markers of grief – crying, collapsing to the ground. And yet it is also wrong to dismiss these associations completely. Richter's abstracts – or rather, this particular group of four paintings, from the hundreds of his abstracts – for me are such devastating masterpieces because they cause us to think and feel of all these things without ever being reducible to them.
Mark Godfrey is curator at Tate Modern, London, and co-curator with Nicholas Serota of 'Gerhard Richter: Panorama' at Tate Modern (6 October–8 January 2012). Visit www.tate.org.uk/modern for more information.
====
Memory and Memorialization: Gerhard Richter's September
by Jaime Schwartz*
Each issue of Interventions will feature a text analyzing an artwork currently on view in New York City.
—
"Probably September 11 bothered me more than I expected."
–       Gerhard Richter[i]
—
Memory and Memorialization: Gerhard Richter's September
This account will begin like every other, with facts; the only pieces of information that are known to be certain. At 8:45 AM on Tuesday, September 11, 2001 – a bright, cloudless morning – a hijacked commercial airliner hit the North Tower of New York City's World Trade Center, causing immediate and irreparable destruction on a scale that was to that point unprecedented on American soil. At 9:03, a second plane took down the South Tower. Via a diverse and extensive array of media channels, the magnitude of these events unfolded live and in real time in front of a stunned world. The German painter Gerhard Richter, along with his wife Sabine, was on that morning en route to New York for the opening of a solo exhibition at Marian Goodman Gallery. With the airspace over the city immediately shutdown, Richter's plane was diverted to Halifax, Nova Scotia where he had no choice but, like everyone else, to wait and to watch. Two days later, on September 13, he returned home to Cologne.
—
Four years later, in 2005, Richter painted a small canvas depicting a horizontal blur colliding with two vertical thrusts against the backdrop of a clear, sky blue. At approximately 28 x 20 inches, this painting is forgettable in scale. Richter himself attests that he was at first unsatisfied with the outcome and nearly threw the work away. But, readily identifying its innate poignancy, a friend visiting his studio insisted that the artist give the canvas a second look. This is the painting September, that was acquired shortly thereafter by the Museum of Modern Art (MoMA), New York. Though close inspection in fact reveals the painting to be a depiction of the second plane hitting the South Tower, the abstracted nature of the work makes the reference to 9/11 – as that day has come to be known colloquially – only oblique. Even the title lacks precise detail, positioning the painting as a channel of meditation between the viewer and the experience, rather than simply reportage. From an art historical perspective, this work implicitly questions whether an event that is so undeniably cataclysmic can be depicted from a neutral standpoint. Can the artist act as interpreter and reduce the events of that terrible day to a scale that is intelligible, stripping away the complex cavalcade of emotions that it immediately and inevitably stirs up? And, concomitantly, can a simple act of memory on these grounds function as act of memorialization?
In his book-length essay September: A History Painting, curator Robert Storr attempts to frame an answer the seemingly straightforward question "What is the meaning of a single, small, almost abstract depiction of one of the most consequential occurrences in recent world history?"[2].  Storr begins by situating the work in the context of Richter's oeuvre: "Physically, September belongs to a fairly sizeable body of work that Richter has created over the last decade or so, pieces that at a distance resemble gray smudges."[3] This type of work, balanced somewhere between the gestural intimacy of painting and the detached immediacy of photography, is typical of Richter's overall project as an artist; that is, his decades-long interrogation of pictorial conventions, and an upending of our most basic assumptions therein. Though this painting is smaller than is usual of Richter's output of this kind, Storr notes that its "scale places it in the range of many of the media images people saw on television at the time of the attack and since, while also countering the tendency in history painting of representing major events in rhetorically big formats with melodramatic effect."[4] From the outset, Storr presents the painting as deeply connected with memory, yet distinct from traditional aesthetic discourses on that subject.
Richter's recollection of that day is one that is in fact uniquely suited to the twenty-first century. The attacks of September 11, 2001 have the dubious distinction of being the first (and to date, the only) terrorist attacks to be broadcast live. Moreover, 9/11 stands as the best-documented event of its type, thanks in large part to an overall democratization of media. It is a day remembered as much by cell phone pictures and amateur videos as by the lenses of photojournalists and the news media. Even for those who experienced the atrocities firsthand, it is a day that is largely recalled via these mass-mediated images. In her 2003 book, Regarding the Pain of Others, Susan Sontag explains, "A catastrophe that is experienced will often seem easily like its representation."[5] In this sense, photography plays a privileged role in the construction of memory and often goes so far as to substitute for lived experience – which is true of Richter's experience of 9/11 – as it is of most of the world's. Sontag elaborates, "Nonstop imagery (television, streaming video, movies) is our surround, but when it comes to remembering, the photograph has the deeper bite. Memory freeze-frames; its basic unit is the single image."[6] Memory, therefore, is conditioned; it is inherently unstable, subject to revisions and corrections. The question for Richter then becomes, given these conditions of reproduction that are specific to the digital era, what can painting offer? After all, what could eclipse the images of bodies falling from buildings and smoke-enveloped neighborhoods that are so indelibly ingrained in the collective conscience?
The source imagery for this painting, however, is anything but abstract.  A page from Richter's Atlas – the scrapbook that he has been keeping since 1962 of found images – reveals an obsessive repetition of a news photograph of a plane hitting one of the towers. Buchloh positions Richter's Atlas as both didactic and mnemonic project that partakes in an archaeology of memory without making any commentary on it. Instead, he uses the Atlas as a jumping off point and a means for personal reflection: "Richter, as a subject of the postwar period, would now have to rephrase this very question, namely, whether it could even be possible to conceive mnemonic images at the moment of the most violent, collectively enacted repression of history, a repression for which photographic media-culture had become now… the primary agent."[7]
There is only one other instance in Richter's five-decade career where he is explicitly dealing with world events and collectively experienced trauma in his painting. This cycle of 15 small photorealist paintings, collectively entitled October 18, 1977 depict the aftermath of the terror enacted by the Baader-Meinhoff Gang, a small but militant left wing terrorist organization that carried out killings and kidnappings throughout the 1970s in Germany. The date in the title refers to the specific day when the bodies of the principal members were found dead in their jail cells under questionable circumstances. These images, which were in actuality painted from police photographs, recall memento mori as the subject matter consists of lifeless bodies, empty jail cells, and funerary scenes. Stylistically, the paintings are executed in black and white and while each image is clearly legible the paintings overall have a blurred quality. This simultaneously recalls both newsprint – the form of dissemination of this information – as well as the haziness of memory.
Benjamin Buchloh sees the elision of the actual acts of terror in favor of the fate of their enactors as an attempt to counteract the representational limitations of painting in regards to the depiction of history. He writes, "The inability of painting to represent contemporary history resulted first of all from the transformation of historical experience into an experience of collective catastrophe. It therefore seemed that only photography, in its putative access to facticity and objectivity, could qualify as an instrument of historical representation."[8] Instead of mimicking the photographic function of reportage, Richter utilizes photography's assumed indexicality to a different effect – to depict secondary moments  – the results of the terror, rather than the terror itself. This tactic serves to neutralize any judgment or critique on the part of the artist. Buchloh concludes, "Richter's October 18, 1977 attempts [only] to initiate a reflective commemoration of these individuals."[9]
The October 18, 1977 paintings were in fact displayed at MoMA in the fall of 2002 as a part of a retrospective survey of Richter's career, where they caused quite a controversy. In the wake of 9/11 that MoMA would display (and eventually acquire) imagery whose explicit subject was terrorism was an odious idea for many, especially those towards the conservative end of the political spectrum.  Though the paintings were intended as neutral depictions, their representational fidelity to their subjects made them implicitly charged.
From this standpoint, it is easy to understand the relationship between the October 18, 1977 cycle and September. Storr writes, "September is a coda to the October cycles, the image of self-immolation in pursuit of self-determination, a totalizing doctrine consummated by death…. But unlike in the October cycle, the haze of September subsumes those who suffered in the attack along with those who perpetrated it."[10]Unlike the Baader-Meinhoff paintings, Richter does not rely on photorealism here in order to convey information, opting instead for an abstracted representation of the attack. At first glance, it is easy to overlook what exactly the content of this painting is. As Storr describes, "The more time spent with the painting the more fully that terrible knowledge [of what they are actually looking at] dawns on the viewer."[11] Richter has stripped the image of specificity. Even the painting's title – September – does not fully reference the event. Here, "The decision to paint what cannot be painted, is the principle means of critique."[12] Like the October 18, 1977 cycle, the painting acts as a jumping off point for a more sustained reflection, but in this case does so through abstraction, rather than representation. The painting acts, not as a stand-in for memory, but rather as an instigator for reflection and remembrance. While on the one hand, September is a representation of a universally experienced event, on the other it is deeply indicative of the artist's own thought process. Storr observes, "Like October 18, 1977, [September is] a delayed response to a powerful jolt to his system, an aftershock rather than a direct transcription of the initial shock itself, reminding us that Richter is, at his most emotional, a ruminative artist rather than an impetuous 'expressionist.'"[13]
Bibliography
Buchloh, Benjamin H.D. "A Note on Gerhard Richter's October 18, 1977." October 48, (1989): 88-109.
                                             ."Gerhard Richter's "Atlas": The Anomic Archive." October 88, (1999): 117-145.
Sontag, Susan. Regarding the Pain of Others. New York: Farrar, Strauss and Giroux, 2003.
Storr, Robert. September: A History Painting by Gerhard Richter. London: Tate Publishing, 2010.
---
*Jaime Schwartz is a second year student in the MA in Modern Art: Critical and Curatorial Studies program at Columbia University.
interventionsjournal · Interventions is the online journal of the Modern Art: Critical and Curatorial Studies (MODA) program at Columbia University
==
Playing in the Ruins:
The Late Abstraction of Gerhard Richter
Jonathan Field
Introduction
"Richter's late abstraction re-constitutes aesthetic totality from the ruins of modernism. It compels conviction because, rather than pretend that the ruination never happened, it is made of that debris, that negation."[1]
In the summer of 1995 the Anthony D'Offay gallery in London held an exhibition entitled Gerhard Richter: Painting in the Nineties. Comprising abstract painting alone (Richter's oeuvre is notoriously heterogenous) the exhibition provided the opportunity to consider Richter's development since his Tate Gallery Retrospective of 1991.[2] My instinctive reaction to these new paintings was two-fold: first, these late Abstract Paintings were qualitatively better than those that came before (that is Richter's "painting in the eighties"); second, that this improvement related somehow to a playfulness in this later work, a desire to frolic—as Wood puts it—in the "ruins" of Modernist painting.
A similar sense of "playing in the ruins" is evident in the writing of American author Thomas Pynchon (albeit in the ruins of literature rather than painting). Where Wood uses the term "ruins," Pynchon prefers the term "entropy." Central to this study is the belief that play—with its emphasis on openness and subjectivity and its rejection of closure and prescriptive outcome—is an essential part of what I will term "counter-entropic" practice. In this paper, the late abstraction of Richter is approached using Pynchon's terminology. Drawing together American literature and contemporary German painting, it demonstrates how both writer and painter have found playfulness the best means to counter the entropic tendency—the ruins—that both consider one of the salient characteristics of Postmodern culture.
1. Two Paintings by Gerhard Richter
If I am to demonstrate that Richter's abstraction of the 1990s marks a qualitative shift in comparison to that of the 1980s, it is first necessary to define the salient characteristics of both periods: that is, what do these paintings look like? This question can be addressed most effectively if an individual painting is elected to represent each suite of paintings. In so doing I run the risk of undermining other elements of Richter's painting project (the Photo Paintings, Colour Charts, Grey Pictures and so forth). Nonetheless, all the paintings on show at D'Offay belonged to Richter's abstract oeuvre, and, as such, Red [821][3](1994) (Fig. 1) has been taken to represent his recent interests and obsessions. If one is to compare like with like, it is also necessary to elect an abstract painting to represent his painting in the eighties. Abstract Painting [576/3] (1985) (Fig. 2), therefore, will stand for the earlier decade.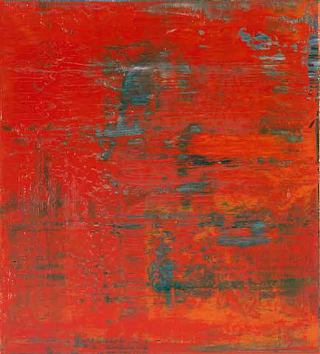 Red [821]
Red [821] is a large painting, measuring 200cm x 320cm. Filling one's field of vision, it suggests monumentality, grandeur even. Our visual experience is dominated by the eponymous color of the title, which forms a veil through which we peer at a chaos of earlier workings. This is not, however, the triumphant primary of Yves Klein or Barnet Newman. Rather, it is a bleached and dirty looking red, an impure variant generated by the smearing of wet paint into wet paint. Bits of acid green and blue poke through, signs of the earlier activity which led (perhaps) to the completed work. The main manufacturing process seems to be one of accretion, dominated by the building up of layers of paint: yet the red paint which determines the character (and title) of the painting serves as much to destroy that which is underneath as to construct the visible image. On closer inspection, it becomes clear that some sort of spatula or squeegee has blurred the wet surface of the painting, and many of the arabesques and swirls of paint which remain visible are the product of this pseudo-mechanical process.
This fact directs our attention toward the means by which Red [821] was produced. This line of enquiry is aided by the suite of thirty three color photographs contained within the exhibition catalogue which chart the complex of gestures and counter-gestures that led to the finished painting. It is clear, on attending to these, that the production process is lengthy and unpredictable: the initial stages bear no relation to the finished painting. The working process is difficult to define causally: Red [821] has been constructed through the interaction of "organic" (brushed, controlled) paintwork and "mechanically" (scraped, squeegeed) interventions.[4] It is clear on attending to the painting itself, however, that these "scrapings" are neither the multi-directional marks of erasure, nor has Richter chosen to submerge them behind subsequent layerings of paint. If anything, their role is positive (compositional) rather than negative (erasive). Their mechanical identity (as opposed to the organic brush-marks and semi-expressionistic gestures which underlie them) is integral to the identity of the painting. Richter has afforded them prime position: they sweep across the top of the painting in bold strokes, generating Red [821]'s primary dynamic (horizontal, from left to right). The underlying layers of paint also bear traces of the same semi-mechanical disruption which has afflicted the top (red) layer of paint. Creation is also destruction; construction also de-construction.
In short, there is a sense of play here, an openness to accident and unpredictability.
Abstract Painting [576/3]
Abstract Painting [576/3] is a smaller painting than Red [821], measuring 180cm x 120cm. Like Red [821] it is not representational, yet where Red [821] comprises mostly one color, this earlier painting is multi-colored. A large block of yellow dominates the upper half, the centre is occupied primarily by a tinted salmon-pink, and ultramarine blue dominates the bottom section. These three areas of color have been applied with a large brush, and are flat, uncompromising monochrome statements. The (many) painterly incidents which surround them are, however, not so easy to describe. Grey "squiggles" dynamically traverse the canvas, and are in turn overlaid by frenzied painterly activity. The yellow area is overlaid with gestural red brush-marks, and the pink-tinted mid-section by thick opaque smearings of pure cadmium red. Underlying the blue area are gesturally brushed passages of grey paint, and the left side of the painting is dominated by an acidic lime green which is in turn overlaid with the same salmon-pink that dominates the centre of the painting.
It is immediately clear that Abstract Painting [576/3] comprises a far wider vocabulary of formal languages and painting styles than Red [821]. Indeed, it appears to comprise a catalogue of the rhetorical devices of the expressionist abstract painter—Jackson Pollock's drip co-exists with Mark Rothko's flat fields of primary color, Franz Klein's gestural calligraphy and so on. This range of styles and techniques draws our attention toward Richter's method. The mid-1980s is the period of the "color-sketches" whereby Richter reproduced (via a process of transfer and enlargement) small paintings on a large scale. Painted in 1985, Abstract Painting [576/3] epitomizes this policy of re-presenting the rhetorical devices and codes of painterly abstraction: to apply the terminology used in my description of Red [821], it re-presents "mechanically" an "organic" original. This process is clearly visible here: the painting appears to comprise areas of flat color which co-exist with seemingly "gestural" brush-marks, yet this initial perception proves deceptive. The paint-marks that transverse the canvas from the top-left corner have been "shaded" to create the illusion of spatiality, their upper half tinted to create a three-dimensional trompe l'oeil effect; the flecks of green paint that suggest unmediated painterly activity have been printed onto the surface of the painting with a sheet of glass; the cadmium red which overlays the mid-section of the painting has been applied with a printer's squeegee, and so on. As such, the gap between organic (model) painting and the mechanical method of production could not be further emphasized.
In short, Abstract Painting [576/3] is the product of a prescribed and carefully executed process: that sense of play evident in Red [821] is absent.
A Shift
The above descriptions point to similarities as well as differences between the two paintings (and, by association, the two periods): both comprise a combination of "organic" and "mechanical" modes of painting, and both maintain an uneasy relationship between the two.  Interpretation of both paintings, however, remains difficult. (Conventional) abstract expressionism operates on the premise that there exists a direct and unmediated relationship between artist and artwork. Both Red [821] and Abstract Painting [576/3] problematize this relationship. Nor is it possible to categorize either as "abstract" paintings in the conventional sense. The process of abstraction generally involves a two-way relationship between an external reality (whether that be physical, psychological or whatever) and the canvas. Neither Abstract Painting [576/3] nor Red [821] maintains such a relationship. Neither can be described using conventional psychological categories such as gesture or expression; nor theological terms such as transcendence. Neither tells us of Richter the author, and nor do they point outward toward some reality that exists beyond itself.
Where these issues are the subject of much literature on Richter, what is interesting here is the shift from a prescriptive methodology to one characterized by playfulness and openness. The manifest subject of Richter's abstraction, as many commentators have noted, is the crisis of legitimacy facing abstract painting in the Postmodern present. Abstract Painting [576/3] demonstrates this crisis through that process of double-negation described above (of organic painting by mechanical re-presentation, and vice-versa). Red [821], however, was produced through a process more complex than the simple re-presentation of an organic original. The method here is one of concretization, a building up of the paint surface through the combination (fusing) of organic and mechanical painting.
Why this shift?
The answer, I suggest, can be understood in relation to "entropy." Where there are few examples of the term appearing in relation to visual practice, the theme of entropic decline is common within twentieth century American literature and is particularly significant in the work of Thomas Pynchon. In order to introduce the manner in which Pynchon's work engages with the theme, the following section is structured in relation to two of his stories [Entropy (1960) and The Crying of Lot 49 (1965)]. Only five years separates these two works, yet the development between them, I suggest, provides a model with which to understand and evaluate the shift in Richter's painting between the 1980s and 1990s.
2. Two Stories by Thomas Pynchon
Entropy
Entropy revolves around two central characters. The first is Meatball Mulligan, a "beatnik" observed in the process of holding a lease-breaking party which is slowly degenerating into chaos. Upstairs, the second character, Callisto, is living a carefully monitored life in a hermetically sealed hothouse. Where Mulligan's domain is dominated by raucous interaction, Callisto's is an ordered enclave which insulates him from the vagaries of the outside world. The story is therefore composed around the opposition between Callisto's order and Mulligan's chaos. As literary critic Tony Tanner (1972) puts it,
In the search for "perfect music," Callisto has retreated from the world of interaction into his own airless void. His fear of chaos and ambiguity has led not only to a supremely ordered environment, but to an extreme form of entropy (in his closed system, heat energy cannot be transferred to the small bird whose life he is trying to save by warming it in his hands). The futility of attempting to live in a "hothouse," isolated from the world, is finally revealed: Callisto's "perfect music" has resolved all into terminal sameness.[6] Callisto's hothouse is counterbalanced in Pynchon's story by an alternate form of entropic death. Mulligan's party has moved into its fortieth hour, the guests are in various states of inebriation, and communication between the revelers has become increasingly discordant and reached the point at which it has virtually collapsed.[7] Where Callisto faces the terminal sameness of inertia, Mulligan faces that of chaos.
If entropy may be defined as a tendency toward both "disorder" and "inertness," then Mulligan metaphorically represents the former, and Callisto the latter. In short, both characters demonstrate conditions of entropy.
The Crying of Lot 49
Five years later Pynchon published The Crying of Lot 49. The story follows one central character, Oedipa Maas, in her investigation of the estate of an ex-lover. As she sets about her task she discovers more and more clues pointing to the existence of an underground organization (the "Trystero") which opposes (and provides a secret alternative to) the official lines of communication. Oedipa is never sure if the Trystero exists or whether she is hallucinating its existence as an antidote to the drabness of her life. As her quest for truth progresses, she has many hints of an alternate reality which hovers just outside her perception. One example of this strange experience occurs when she arrives at the city of San Narciso:
This location of meaning just beyond the "threshold of understanding" is a central aspect of the novel. The clues which appear to Oedipa reveal only glimpses of reality, but "…never the central truth itself which would destroy its own message irretrievably."[9] This phrase captures the essence of the book: The Crying of Lot 49 consistently rebuffs the reader's attempts to locate a coherent meaning within its narrative. The principle means by which this is effected is Pynchon's ambiguous treatment of the Detective genre of literature. The Californian detective stories of Raymond Chandler provide a model for the story. But rather than the narrative leading toward the denouement of a criminal, a set of clues eventually pointing to a resolution of previous mysteries, Pynchon's story begins with conventional life firmly in place, and gradually moves toward a condition of increasing mystery and ambiguity.
A Shift
Despite the brevity of the above synopses, a distinct shift can be observed between these two stories. Entropy is a dialectical story: Callisto and Mulligan stand not so much as characters in their own right but metaphoric equivalents to a crisis within American literature. Pynchon has written a story which engages dialectically with its eponymous title: the two characters represent the polar culminations of inertia and chaos so absolutely that they become little more than ciphers for the scientific tendency that provides its title. Where Entropy engages with its eponymous theme in a dialectical manner, The Crying of Lot 49 abandons the metaphor in favor of a more ambiguous mode. If Callisto and Mulligan represent two polar entropic threats, it is unclear whether Oedipa represents anything at all: her name seems either to signify too much or too little. Names in novels operate traditionally either in a literal or metaphoric manner, but Pynchon rejects this convention. The name "Oedipa Maas" is neither real nor metaphorical (in the sense that Callisto and Mulligan are metaphors). "Oedipa" suggests a female version of Oedipus. "Maas," it has been suggested, may denote "mass," and therefore link with Newtonian physics.[10] Terry Caesar, on the other hand, has suggested that the name may consist simply of a verbal joke: "Oedipa my ass."[11] Any of these interpretations may reflect Pynchon's intention, or none. In refusing to confer a unique identity upon his heroine, Pynchon frustrates our desire to predict her behavioural patterns. Where the meaning of Entropy occupies a central role in the construction of the story, the meaning of The Crying of Lot 49 exists peripherally.
This shift—from the dialectical to the playful, from the prescriptive to the open—is not dissimilar to that which occurred within Richter's practice between the 1980s and 1990s.
And this shift—in both painting and writing—can best be understood, I suggest, using Pynchon's terminology: entropy.
3. Entropy
Generally associated with the running down of a system (whether that be a small machine or the universe) the culmination of the entropic tendency has been theorized variously as disorder and inertia. The two claims cited above reveal such a tendency: for Suzi Gablik, the collapse of the guiding principles which bound cultural activity under Modernism has engendered a crisis within the visual arts, whereas for Jean Baudrillard it is the saturation of images that characterizes the contemporary world which is the entropic agent. Further examples range from Danto's thesis that art after Warhol is merely the repetition in diluted form of what came before, to Fukuyama's claim that we are living after history.[14] Such claims may easily be confused with alarmist assertions of a deterioration in cultural standards. My intention here is avoid such generalized claims in favor of a more precise definition that relates to the cultural context within which Richter is working.
The Fantasy of Theory
The first entropic danger is the colonial tendencies of visual theory. The tendency for the art work to be considered a text to be deciphered rather than an object to be evaluated is typical of a Postmodern critical sensibility, as Grizelda Pollock outlines in her appraisal of new feminist theory:
What is significant in the present context is the hegemony of such a trend within contemporary theoretical and curatorial practice.[16] In order to explore this tendency, I turn to Ian Heywood's paper "Primitive Practices: Against Visual Theory" (1994).[17] The purpose of Heywood's paper is to criticize the aggressive tendencies of "visual culture." Heywood begins by noting that visual art is especially vulnerable to the reductive tendencies of cultural theory. Borrowing from Bauman's essay "Legislators and Interpreters" (1987), he suggests that the effect of theory on art over the past twenty years has been largely negative.[18] Heywood first outlines the theorist's ideology of culture (which, following the breakdown of traditional modes of social organization in the early eighteenth century had the net effect of empowering the intellectual via the legislative power of knowledge), and goes on to note that within late modernity the legislative power of grand theory is on the wane. As a consequence the theorist/legislator has been replaced by the expert who enjoys absolute autonomy and freedom, yet (consequently) finds him/herself politically impotent and detached from any real ethical responsibilities. It is this aspect, for Heywood, which lends visual theory its sinister undertones. It is the fantasy of theory to imagine that it can (indeed, must) step in to inform and illuminate what is otherwise an ignorant practice: for the expert, art is a "primitive" practice desperately in need of the legitimizing power of theory.[19] Where Pollock notes that the Postmodern critic attends to the textual qualities of the art work, Heywood goes further in suggesting that recent theory is actively antagonistic to the intrinsically visual qualities of the work. For the expert, the deeper stratum contained within the art work is theoretical, (rather than poetic) but ill-formed or incomplete and the task of the theorist to correct what is an ill-informed, and (at worst) dangerous practice. The metaphor which Heywood applies to this process is that of coursing:
It is this recognition of the tendency for contemporary theory to deprive art of its auratic quality, to render it textual, that is of particular significance here. Visual theory, which seeks to colonize painting for its own instrumental ends, represents the first entropic threat to what Richter calls the "incomprehensibility" of painting. The Daily Practice of Painting (Richter's studio notes, exhibition statements and interviews) is replete with statements which assert the value accorded an opaque, auratic form of practice.[21] However, the belief that the deeper stratum contained within his art work is theoretical rather than poetic has led many critics – most notably Benjamin Buchloh – to suggest that the Abstract Paintings represent a memorial to the past possibilities of painting.
Taken in isolation, the solution to this first "entropic" difficulty would seem to be a non-theoretical, organic form of painting. This is not, however, Richter's choice: the distinguishing characteristic of both Abstract Painting [576/3] and Red [821] is the very problematizing of 'organic' painting (Pollock's drip, Kline's calligraphy and so on). The reason for this, I suggest, can be understood in relation to the debased nature of the organic gesture today. To defend this claim, I turn next to Jean Baudrillard's vision of entropy.
A Saturated Culture
Jean Baudrillard's first writings represent an effort to extend the Marxist critique of capitalism beyond the scope of the theory of the mode of production. His later work evolved a theory that attempts to comprehend the nature and impact of mass communications. He began focusing on the media in the mid 1960s, and developed the belief that, in the new Postmodern world, we are bombarded with information-rich images every moment of our lives, the consequence of which is the collapse any distinction between what is real and what is not. For Baudrillard, we live in a world of "simulacra"[22], in which the image of an event has replaced direct experience. For Baudrillard, therefore, it is the breakdown of the correspondence between the real world and the image of the world that is symptomatic of entropic decline within contemporary culture. The Marxist critic Douglas Kellner provides a useful outline of this tendency in Jean Baudrillard: From Marxism to Poststructuralism (1989):
Entropy, according to Baudrillard's vision, is implicated in the very structure of contemporary culture, which, saturated to the limit, has brought with it the "death of art."[24] The principle characteristic, as Kellner notes, is the loss of an organic relationship between experience and the representation of that experience. In the face of the mass production of imagery, the capacity for an image to stand as an unmediated (organic) representation of experience is problematized.
Unsurprisingly, such claims have not been met without criticism. As Christopher Norris has noted, the rejection of any form of "truth" (Baudrillard rejects any defense of truth claims as a hopeless appeal to obsolete Enlightenment habits of thought) can lead only to moral nihilism.[25] Furthermore, the conception of reality as nothing more than a product of various codes and signifying systems assumes that experience can be interpreted only from a socio-cultural perspective.[26] Nonetheless, the notion of a breakdown between experience and its representation is symptomatic of much Postmodern critical practice (it is central to both Benjamin Buchloh and Stefan Germer's critiques of Richter's Abstract Paintings, for example). It also remains a constant concern for Richter himself. Both Red [821] and Abstract Painting [576/3] explicitly problematize organic painterly activity through a process of mediation (whether that be one of transfer and enlargement or one of mechanical disruption of organic gesture), and the Abstract Paintings take their place within a body of work dedicated to resisting an organic artistic vision.
Wood has written of the recent ruination of traditional aesthetics. This ruination, I suggest, has been brought about by a variant of that saturation of visual information to which Baudrillard refers: the quotational tendencies of Postmodern practice. High Modernist styles of painting are now being quoted as part of the Postmodern project of deconstructing originality and authenticity (Phillip Taaffe's recycling, for instance, of Minimalist and Optical painting). The "ruins" to which Wood refers are generated by the reduction of organic and mechanical modes of production to the level of rhetoric. The second entropic threat to the kind of auratic painting Richter values is the rhetorical (even clichéd) nature of Modernist abstraction, when, as Benjamin Buchloh puts it, "…gesture could still engender the experience of emotional turbulence, when chromatic veils credibly conveyed a sense of transparency and spatial infinity, when impasto could read as immediacy and emphatic material presence…"[27]
In short, Richter cannot return to an unproblematic (organic) mode of painting, just as Pynchon cannot return to the unambiguous denouements of Raymond Chandler.
4. From Demonstration to Non-Demonstration
Returning to Pynchon, the significance of Entropy in relation to this study becomes apparent when one considers the ease with which it gives itself to theory. Callisto's fear of chaos and ambiguity has led not only to a supremely ordered environment, but to homogeneity and inertia,[28] whereas Mulligan's party brings with it the alternate entropic condition of disorder.[29] Pynchon has written a story which engages dialectically with its eponymous title: the two characters represent the polar culminations of inertia and chaos so absolutely that they become little more than ciphers for the scientific tendency that provides its title. Pynchon acknowledges this irony years after writing the story:
In presenting a dialectical equivalent to the entropic process, the story is rendered subservient to the interpretation. Tanner writes of the "dangerous seductiveness of metaphors of doom"[31], yet this is precisely how Entropy has been constructed. Entropy is unable to counter its eponymous tendency precisely because it demonstrates it.
Where Entropy communicates its meaning dialectically and unambiguously, communication in The Crying of Lot 49 is always incomplete. Pynchon's concern in both stories is related to the problem of decipherment; but where Entropy engages dialectically with this concern, it manifests itself in the later story as a permanent instability—a playfulness—in the relationship between the interpreting mind of the reader and the varying fields of signification it must negotiate. Of prime importance to the present thesis is the fact that the shift which occurs between the two stories does not represent a volte-face in Pynchon's practice. The Crying of Lot 49 is not a demonstration; yet, significantly, nor is it absolutely non-demonstrative (there remains throughout a curious sense of meaning just beyond the threshold of understanding). The shift is from binary, dialectical structure to one that is open, multivalent and playful.
The same is true, I suggest, in regard to the shift from Abstract Painting [576/3] to Red [821].
Abstract Painting [576/3] polarizes organic and mechanical modes of practice in an equivalent manner to that in which Callisto and Mulligan polarize the two culminations of entropy. What is significant is the ease with which paintings such as Abstract Painting [576/3] lend themselves to dialectical interpretation, the ease with which Buchloh et al are able to course (to use Heywood's term) beneath the surface of the 1980s abstraction. After such "expert" analyses, Abstract Painting [576/3] comprises little more than hidden text (and not well hidden at that). What marks Richter's 1980s abstraction is its binary structure—its lack of playfulness—which allows "meaning" to be woven easily around it. Organic and mechanical modes of practice are rendered textual through incongruous juxtaposition; as such, they remain little more than ciphers for painting's crisis (as Pynchon's Entropy remains little more than a cipher for literature's crisis). The visual particularity (and consequent meaning) of the early abstraction is submerged beneath its textuality. In demonstrating crisis, the locus of the 1980s Abstract Paintings is fundamentally theoretical: they come behind the various interpretations of Richter's abstraction.
Where Entropy provides a model for understanding Abstract Painting [576/3], Pynchon's later story provides a paradigm for Richter's later painting. Importantly (again echoing Pynchon) the shift which occurs between the two paintings does not represent a volte-face in Richter's practice. Red [821] certainly operates in opposition to the binary structure of the early work. Where the early abstraction demonstrates the difficulties which confront painting through a process of double-negation, the late abstraction is produced through a process more complex than the simple re-presentation of an organic original. Red [821] was produced after countless actions and counter-actions (the repeated application and removal of paint). Each canceling of the plethora of earlier painterly activity was also the moment at which a new possibility was made visible. If the traces of this layering proved unsatisfactory visually, then Richter continued to work. By its very nature, the sheer quantity of visual phenomena which are brought into being through this (playful) method cannot be adequately conveyed through language. In being produced "backwards," theory is forced to come after practice.
But what exactly is at stake here: what are the "ruins" in which Richter is playing, and why does "play" represent a positive quality in Richter's painting? In other words, a closer understanding of the term "play" is needed.
5. Red [821]: Playing in the Ruins
The term "play" suggests a lack of seriousness, a certain frivolousness.[32] But Richter's playfulness is deadly serious (one only has to read The Daily Practice of Painting: Richter's studio notes, exhibition statements and interviews—to appreciate this). I have argued that "play" might be understood as an attempt to counter the "entropic difficulties facing contemporary cultural production," and in the previous section suggested that the concretization of his late abstraction represents an attempt to overcome these (as noted, Red [821] plays with the tropes [mechanical and organic] of abstract painting, carefully walking a tightrope between the two modes.) By repositioning, re-constituting, pushing one way then the other, the process that generated Red [821] is dominated by a constant sense of becoming and transformation– a significantly different form of play, I would suggest, to that witnessed in much Postmodern practice. Where many Postmodern strategies (irony, pastiche and so forth) are described as "playful," Richter's methods are driven by a different agenda.
Postmodern play
The kind of "play" that dominates Postmodern practice is generally theorized as a reaction to the "seriousness" of Modernist practice. Many commentators have noted that Modernity is marked by a relocation of art away from the life-world,[33] and this interest in autonomy, this will to purity, can be seen in much abstract painting of the twentieth century. One example will stand for many others: Ad Reinhardt began his painting career with geometrically abstract paintings. His first contact with the theories of Modernist abstraction came in the late thirties and early forties with the study of Malevich and Mondrian, and his oeuvre is famously dominated by a continual process of reductivism. His career ended with a seven year period (1960-1967) during which he painted nothing but square canvases in which two barely distinguishable coats of black paint form a cruciform trisection of the surface. With these 'black' paintings, he argued, reductive Modernist painting refines itself to a point at which further progress cannot be made. Here, playfulness is forbidden, seriousness, purity and closure are all. And it is this closure—this seriousness, this drive toward (Parnassian) purity which many Postmodern painters react against. If Reinhardt represents Modernist exclusivity, the paintings of David Salle might be taken as emblematic of this opposing tendency. In "Post-Modernism," Charles Jencks describes one of Salle's paintings:
Salle's painting is certainly more "playful" than Reinhardt's: In combining imagery from such diverse sources as pornography, advertising and abstract painting, Burning Bush generates alternate and conflicting interpretations. However, in encouraging the breakdown of the traditional signifier/signified relationship, the playfulness of Salle's painting, I suggest, merely demonstrates the Postmodern condition of painting. And in surrendering to demonstration, Burning Bush represents a significantly different form of play to that we see in Red [821].
From the least to the most probable state
As argued, Richter's "serious" play is informed by a desire to counter the entropic state of painting in the Postmodern present. Norbert Wiener has suggested that
Both Reinhardt's and Salle's painting represent a high level of probability. David Hockney, writing in 1968, claimed to know of eighteen painters working in London, all of whom (following Reinhardt) were producing black square canvases. Salle's paintings are predictable simply in their repetitiveness. As the American critic Thomas Lawson observes,
The concretization of Red [821] – Richter's refusal to demonstrate the jaded condition of contemporary culture (defined so eloquently by Lawson)– represents a different form of "play" to that which dominates the studio practice of David Salle. This is not a "ritual shuffling" of the rhetoric of painting. Rather, it is an attempt to allow play a positive role in generating a genuinely aesthetic form of painting. In other words, Red [821] communicates the difficulties confronting painting through visual means – a quality inextricably linked to the playful means of its production. The red paint which provides the painting with its title has a highly specific character: stood in front of the painting, its "soiled" quality is tangible, physically present within the irregular and partially transparent smears of pigment which vainly attempt to cover the underlying layers of paint. The visual scrutiny provided at the beginning of this study reveals that Red [821] is not reducible to the homogenized sameness of theory. It is clearly a painting which is concerned with the problematic nature of painting in the 1990s (this is undoubtedly Richter's subject matter), yet it possesses specific material qualities which communicate this meaning in a significantly different manner to Burning Bush. Red [821] counters the (entropic) coursing tendencies of Buchloh et al by refusing to demonstrate the manifest difficulties which attend painting in the nineties.
6. The Spectacle of the Unknowable
Writing in 1991, Dan Cameron claimed that the
Richter values art's capacity to mystify us, to present the "spectacle of the unknowable": but locating that "place where we least expect to find it" has become increasingly difficult within the Postmodern period. During the early 1980s a "new spirit" in painting was being heralded after its exile of the previous decade. Richter, however, refused to join in the celebrations, openly condemning the return of painting as little more than a market driven phenomenon. His response to "all this entertainment" was to problematize organic painting through that juxtaposition of two modes of practice which characterizes Abstract Painting [576/3]. As the Postmodern period developed, however, this binary mode of subverting organic painting became assimilated into the mainstream: it became an orthodoxy. The "new spirit" of the mid-1980s was, by the time Richter painted Red [821], more than a decade old (A New Spirit in Painting is now as much a part of history as the exile of painting fifteen years earlier). During this period, a host of Postmodernist practitioners (some more talented than others) followed Rauschenberg's lead and hybrid works (cross-cultural, cross-media and so on) came to dominate the marketplace.
In short, conventional methods of "concealing sublimity" had become, during the period under scrutiny, increasingly orthodox. Where the earlier painting polarizes the two modes of practice in order to deny singularity, such a practice had become orthodox by 1994: to continue with the binary mode of Abstract Painting [576/3] would effectively entrench the crisis of contemporary painting. It is his sensitivity to this problem which prompts Richter to abandon the "model-painting" methodology favored throughout the 1980s in favor of the playfulness of the late abstraction.
Red [821] is clearly "not-Modern," but the manner in which it is "not Modern" is difficult to determine. Postmodern practice is conventionally characterized by subversive tactics such as irony and pastiche (examples range from the allegorical classicism of Stephen McKenna and Carlo Maria Mariani to Mike Bidlo's copies of paintings by the Modern masters). Richter's late abstraction, however, neither parodies nor ironises the transcendental pretensions of earlier abstract painting (the various false-starts, changes, shifts, and erasures that led to Red [821] belie such a claim). Red [821] is not a Postmodern painting: Richter despises the contemporary loss of value which accompanies Postmodern art, and rejects the orthodoxies of Postmodern painting as vehemently than he does those of Modernism. To claim—as Buchloh et al have done—that Richter's late abstraction is determined by Modern (or counter-Modern) orthodoxies is to miss the point that the defining feature of these paintings is their refusal to engage dialectically with either period. Where the existing literature considers Richter a "Postmodern" painter, Richter's engagement with the orthodoxies of Modernist painting is based on something entirely different: the ontology of painting.
Richter has suggested that "Painting is the making of an analogy for something non-visual and incomprehensible: giving it form and bringing it within reach. And that is why good paintings are incomprehensible."[37] Playfulness—an openness to accident and visual specificity—is one means, I suggest, with which to achieve this incomprehensibility. This belief is informed partly by conventional "academic" research, but also, and importantly, by "practical" research (painting and making). It is this experience which informs this authors belief that "play"—an essential part of good studio practice—is  to be defended in the face of the colonial tendencies of theory. The studio experience involves decisions, analyses and evaluations that attend to the visual particularities of the art work and which are integral to the development of a piece (indeed, they frequently determine the outcome). Richter's repeated claim that "good" painting can be neither categorized nor anticipated reflects my own belief that a healthy studio practice is characterized by a more multi-faceted, playful, non-reductive relationship with the work in hand than a more dialectical, prescriptive mode of practice. This study has revealed that what Buchloh and Germer find "difficult to understand" (from outside practice) Richter (playing in the studio) does not.
Bibliography
Blackmur, R. M. Reason in the Madness of Letters. (Harcourt, 1967)
Buchloh, Benjamin. "Richter's Facture: Between the Synecdoche and the Spectacle,'' in (Ed. Papadakis), New Art. (Rizzoli, 1991).
Caesar, Terry. A Note on Pynchon's Naming. (CEJL 1981).
Cameron, Dan. "Robert Ryman: Ode to a Clean Slate," in Flash Art, Vol.XXIV, No.159,         Summer 1991.
Fukuyama, Francis. "The End of History," in The National Interest, Vol.16 No.1.
Gablik, Suzi. Has Modernism Failed? (Thames and Hudson, 1984).
Heywood, Ian. Primitive Practices: Against Visual Theory. (Routledge, 1995).
Kellner, Douglas. Baudrillard: A Critical Reader. (Blackwell, 1994).
Kellner, Douglas. Jean Baudrillard: From Marxism to Poststructuralism. (Blackwell, 1994)
Norris, Christopher. Uncritical Theory: Postmodernism, Intellectuals and the Gulf War.            (Lawrence and Wishart, 1992).
Pollock, Grizelda. "Trouble in the Archives," in Women's Art Magazine, (Sept/Oct 1993).
Richter, Gerhard. The Daily Practice of Painting: Writing 1962 – 1993. (Thames and Hudson, 1995).
Tanner, Tony, City of Words. (Harper and Rowe).
Poster, Mark (ed.). Jean Baudrillard, Selected Writings. (Stanford University Press, 1988).
Pynchon, Thomas. 'Entropy' in Slow Learner: Early Stories. (Picador, 1985).
Pynchon, Thomas. The Crying of Lot 49. (Pan, 1979).
Wiener, Norbert. The Human Use of Human Beings: Cybernetics and Society. (Houghton Mifflin, 1954).
Wood, Paul. "The Ruined Abstraction of Gerhard Richter," in (ed. Roberts), Art Has No History!: The Making and Unmaking of Modern Art. (Verso, 1994).
Endnotes
[1] Wood, Paul. "The Ruined Abstraction of Gerhard Richter," in (ed. Roberts), Art Has No History!: The Making and Unmaking of Modern Art. (Verso, 1994) 19.
[2] Gerhard Richter. Tate Gallery, 30 October 1991 – 12 January 1992.
[3] The bracketed number that follows each of Richter's titles denotes its numerical position with his oeuvre (that is Table [1] (1962) is the first catalogued work).
[4] In "Richter's Facture: Between the Synecdoche and the Spectacle," Benjamin H. D. Buchloh notes that "Mechanical and organic aspects of the painterly procedure – these are the two oppositional terms between which Modernist painting has shifted since Manet with ever increasing radicality and exclusivity." Buchloh, Benjamin. "Richter's Facture: Between the Synecdoche and the Spectacle," in (ed. Papadakis), New Art. (Rizzoli, 1991), 91.
[5] Tanner, Tony. City of Words. (Harper and Rowe), 35.
[6] Aubade, Callisto's companion, breaks the window of the apartment and "…turned to face the man on the bed and wait with him until the moment of equilibreum was reached, when 37 degrees Fahrenheit should prevail both outside and inside, and forever, and the hovering, curious dominant of their seperate lives should resolve into a tonic of darkness and the final absence of all motion." Pynchon, Thomas. 'Entropy' in Slow Learner: Early Stories. (Picador, 1985), 94.
[7] "In the kitchen two of the girls from George Washington and the sailors were singing Let's All Go Down and Piss on the Forrestal. There was a two-handed, bi-lingual morra game on over by the ice-box… (The players) were nose to nose, screaming trois, sette at the tops of their lungs…The noise in Meatball's appartment had reached a sustained, ungodly crescendo." Pynchon, Thomas. Ibid., 92.
[8] Pynchon, Thomas. The Crying of Lot 49. (Pan, 1979), 13.
[9] Pynchon, Thomas. Ibid., 69.
[10] Tony Tanner develops this argument in Thomas Pynchon. Ibid., 60.
[11] Caesar, Terry. "A Note on Pynchon's Naming," (CEJL 1981), 52.
[12] Gablik, Suzi. Has Modernism Failed? (Thames and Hudson, 1984), 35.
[13] Kellner, Douglas. Baudrillard: A Critical Reader. (Blackwell, 1994), 56.
[14] Fukuyama, Francis. The End of History in The National Interest, Vol.16 No.1., 3-18.
[15] Pollock, Grizelda, 'Trouble in the Archives' in Women's Art Magazine, Sept/Oct 1993, 12.
[16] One example will stand for the others. In the summer of 1995, the Institute of Contemporary Art, London held an exhibition entitled Mirage: Enigmas of Race, Difference and Desire. Its aims and ambitions read as follows: "An exhibition which charts the influence of Frantz Fanon and his text Black Skin, White Masks upon a generation of young black artists… Renee Green's work Revue examines, through text and image, how Josephine Baker was regarded by contemporary critics as an archetype of exotic African sexuality, engendering fear and fascination. In his series of black and white stenciled canvases Glen Ligon uses text to raise important issues concerning race and identity…" Catalogue statement, Mirage: Enigmas of Race, Difference and Desire, ICA, London, 3.
[17] A paper which was published in Artists from Europe; "Works from the Leeds European Fine Art Symposium," 1994.
[18] As an example of this he cites the effect of Modern Art and Modernism (1982) on the study of art, which distinguishes between "good" (politically correct) and "bad" (Formalist) modernism.
[19] "In this fantasy, culture is an all embracing set of encoded texts which can be understood and regulated (in the mind at least) through the concepts and methods of theory…" Heywood, Ian. Primitive Practices: Against Visual Theory. (Routledge, 1995), 98.
[20] "Visual culture is chronically unable to see or understand the work of art as art. Its object, the thing it studies, is formed of dumb materials containing 'meaning'. The work and its meaning are divided into two levels: an obvious or surface layer and a deeper, more obscure stratum, a 'hidden text'. The significance of the art work, why it is worthwhile for theory to bother with it at all, resides in this text, and in the influence, the effects, it may have." Heywood, Ian. Ibid., 98.
[21] "Theory has nothing to do with a work of art. Pictures which are interpretable, and which contain a meaning, are bad pictures…" Richter, Gerhard. Ibid., 99.
[22] Jean Baudrillard defines simulacra as "copies of an original which never existed" (see Jean Baudrillard, Selected Writings. (ed. Mark Poster). (Stanford University Press, 1988), 253.
[23] Kellner, Douglas. Jean Baudrillard: From Marxism to Poststructuralism. (Blackwell, 1994), 68.
[24] For Baudrillard, Pop is the point at which art implodes, at which the relationship between the real and the representation collapses, the point at which art becomes merely the reproduction of signs within the world.
[25] Norris, Christopher. Uncritical Theory: Postmodernism, Intellectuals and the Gulf War. (Lawrence and Wishart, 1992), 45.
[26] Nonetheless, Baudrillard's writing has proved highly influential upon practitioners and critics alike. A direct response to Baudrillard's critique of simulation was developed by the Neo-Geo school during the early 1980s (at the same time that Richter was developing the early Abstract Paintings). A group of New-York based artists (including Peter Halley, Philip Taaffe and Ross Bleckner dedicated themselves to illustrating Baudrillard's theories in the form of simulacra of late Modernist paintings. Halley for example produced simulated versions of high-Modernist abstract painting (which, perversely, are emptied of the "emptying" drive of classical Modernist abstraction).
[27] Buchloh, Benjamin. "Richter's Facture: Between the Synecdoche and the Spectacle," in Papadakis, Ibid., 194.
[28] Tanner turns to Norbert Wiener's The Human Use of Human Beings (1954) in support of this definition. For Wiener, "As entropy increases, the universe, and all closed systems in the universe, tend naturally to deteriorate and lose their distinctiveness, to move from the least to the most probable state…" Wiener, Norbert. The Human Use of Human Beings: Cybernetics and Society. (Houghton Mifflin, 1954), 12.
[29] As the social scientist R. P. Blackmur claims, "Entropy, from the point of view of the rational imagination is disorder and is indeed its field. Actually we have been as busy, as violent and as concentrated as the ant-heap. We are torpid only because we feel glutted with energy and feel it only as trouble." Blackmur, R. M.  Reason in the Madness of Letters. (Harcourt, 1967), 62; Pynchon, Thomas, op. cit. (1960), 14.
[30] Pynchon, Thomas. Ibid., (1960), 14.
[31] This claim is substantiated (paradoxically) by Tanner's summation of the story's meaning: "'The attractions of 'the closet' in the madness of the modern world are clear enough in Pynchon, but so is the need to resist those attractions in some way. The 'closed circuit', the sealed off refuge, the hothouse world of fantasy, the dangerous seductiveness of metaphors of doom: these can lead to inhumanity and death." Tanner, Tony. Ibid., 35.
[32]   Play: "(1): to engage in sport or recreation: to move aimlessly about: TRIFLE (2): to toy or fiddle around with something <played with her food> (3): to deal or behave frivolously or mockingly : JEST (4): to deal in a light, speculative, or sportive manner." Merriam-Webster Online Dictionary.
[33] Jurgen Habermas provides a succinct definition of this tendency in Modernity: An Incomplete Project: "The project of modernity formulated in the eighteenth century by the philosophers of the Enlightenment consisted in their efforts to develop objective science, universal morality and law, and autonomous art according to their inner logic… Each domain of culture could be made to correspond to cultural professions in which problems could be dealt with as the concern of professional experts…" Habermas, Jurgen. "Modernity – An Incomplete Project." (in Postmodernism: A Reader), 103.
[34] Jencks, Charles. "What Is Post-Modernism?" in (ed. Anderson) The Truth About the Truth. (Tarcher/Putnam, 1995), 84.
[35] Lawson, Thomas. in Suzi Gablik, Has Modernism Failed? (Thames and Hudson, 1984), 50.
[36] Cameron, Dan. "Robert Ryman: Ode to a Clean Slate." (in Flash Art, Vol.XXIV, No.159, Summer 1991), 15.
[37] Richter, Gerhard. The Daily Practice of Painting: Writing 1962 – 1993. (Thames and Hudson, 1995), 99.
Since 1999 Jonathan Field has taught Art History at the Savannah College of Art and Design and has exhibited his artwork widely throughout the United States. Visit www.jonathanfield.org for more information on Field's academic and practical interests.
===
ARTLIES
Monique Prieto, Opus, 2002
Acrylic on canvas
60 x 72 inches
Courtesy ACME Gallery, Los Angeles
Dumb Painting
The End of Representation
Frances Colpitt
Painting is dead was a theory, not a fact. As such, it informed our experience and interpretation of paintings produced under the pall of such a fatalistic declaration. In the 1970s and 80s, those who continued to make paintingsand there were many good artists who didrisked marginalization and charges of elitism or navet. Painting went underground; ostensibly smarter and less commercial, conceptual art prevailed. Then, What the 1990s seem to have brought us, according to Christopher Knight, is the death of the death of painting, which no longer functions as an operating principle, either overt or covert.1
Paintings first obituary is attributed to the French artist Paul Delaroche, who is said to have uttered, From today, painting is dead, upon first seeing a Daguerreotype in the late 1830s. Swayed by photographys capacity for the faithful representation of reality, could Delaroche have overreacted? Could death-of-painting proponents be misreading irony for seriousness? Published in 1881, Gustave Flauberts Dictionary of Received Ideasa primer of clichs and a critique of bourgeois gullibilitydefined photography: Will make painting obsolete. (See Daguerreotype.) Implicit in Flauberts sarcasm is the nave presumption that painting is, in essence, a mimetic form of art. Beyond capturing the likenesses of mortals in portraits, paintings prerogatives have always leaned toward the imaginative and evocative.

Ingrid Calame, g-kgg-kooo-kggkooo-kggkoo, 2003
Enamel on aluminum
48 x 48 inches
Courtesy James Cohan Gallery, New York
Although painting suffered little in the second half of the nineteenth century, its salvation is presumed to have been the invention of abstraction in the 1910s. Formally, expressively and sensually, abstraction gave painters something to paint. Freedom from the demands of representation, however, instilled abstract paintings first floweringfrom Wassily Kandinsky to Ad Reinhardtwith an overwhelming sense of doubt. Jackson Pollock is said to have denied the purely abstract nature of his drip paintings and Reinhardt was the last to defend nonrepresentational painting against the traditional association of painting with mimesis. No illusions, no representations, no associations, he wrote. The art of figuring or picturing is not a fine art.2
After Pop, which is primarily a re-representational art based on representations of representations, paintings prior options of representation and abstraction were realigned. Soliciting artists responses to the idea that painting has ceased to be the dominant artistic medium at the moment, a 1975 issue of Artforum opined: The debates between its two major ideologies, abstract and representational, have outlived their usefulness.3 Although representational painting persisted as a minor art form, the mimetic mandate shifted conclusively from painting to photography, while abstraction was split into formal and conceptual approaches, a situation that continues today. The divide characterized not only painting (including Daniel Burens decidedly anti-formal paintings followed by those of Blinky Palermo and Olivier Mosset, for example) but non-medium-specific art forms, such as conceptualism. Conceptual artists stressed the fact that their art works were abstract, in the manner of language, rather than representational or figurative. At the same time, they were adamantly opposed to formalist painting, despite its adherence to abstraction.4 Personified by Clement Greenberg and Kenneth Noland, formalism was rejected for its emphases on perception, aesthetics and taste; Its a mindless art, wrote Joseph Kosuth in 1969.5
Perpetuating Duchamps distinction between retinal and conceptual art, and his association of retinal art with the slur, common in Duchamps time, bte comme un peintre (stupid as a painter), conceptual artists claimed intelligence for themselves. Brice Mardens paintings are kinda dumb, declared Mel Ramsden, a member of the conceptual collaborative Art & Language. Dismissing an essay on Mardens profundity by Jeremy Gilbert-Rolfe, Ramsden accused the critic of a rationalization or a naturalization of the parameters of media, museum and market. I think Gilbert-Rolfes idea of this bullshit art-criticism is that it serve as a deodorant, preventing us smelling the stink of modernism, by which he meant formalism. Ramsdens attack was supported by an interview with Marden, who said, A painters just this odd weird person who has to do this dumb thing called painting.6

Laura Owens, Untitled, 1995
Acrylic on canvas
66 x 60 inches
Courtesy ACME Gallery, Los Angeles
Gilbert-Rolfe is no intellectual slouch but his affinity for Marden (bolstered by his own practice as an abstract painter) situated his critical interpretations on the opposite end of the theoretical spectrum from Benjamin H. D. Buchloh and his support of Gerhard Richter. In his 1981 essay, Figures of Authority, Ciphers of Regression: Notes on the Return of Representation in European Painting, Buchloh hammered away at the authoritarian, patriarchal and bourgeois values of contemporary figurative painting along with its tendency to commodify history and style. In contrast to the desperately nave gestures of the Neo-expressionists, Richters painting served as a judicious model of the impossibility of authentic painterly expression.7 Buchlohs cooption of Richter for the anti-painting, conceptual avant-garde formed the subtext of his interview with the artist in 1986. Commended by Buchloh for his cynical depreciation of painting, Richter adamantly disagreed. I see there neither tricks, nor cynicismI know for a fact that painting is not ineffectual. When Buchloh interpreted Richters paintings as knowing illustrations of the bankruptcy of representation and abstraction, Richter countered with an affirmation of their capacity for expression and the communication of content. Incredulous, Richter asked the critic, You dont really believe that just the dumb showing of brushstrokes, of the rhetoric of painting and its elements, could accomplish something, say something, express some kind of yearning8 The conflict reveals Buchlohs futile attempt to characterize Richter as smarter than he wants to be.
Richters work did much to blur the divide between abstract and figurative painting. Subsequently embracing both modes are artists such as Laura Owens, whose early paintings revisited the abandoned project of 60s stain painting. Likewise thinly and inelegantly painted, her figurative works depict dreamy land- or skyscapes and evocative fairy-tale creatures. The shapes in Inka Essenhighs paintings have similarly evolved from amorphous anime-inspired forms to highly modeled, obviously anthropomorphic figures. The spills, stains, blobs and drips of richly hued, non-referential color in the works of Monique Prieto, Ingrid Calame and Aaron Parazette remain more rigorously abstract. Even the recent incorporation of text by Parazette and Prieto does not affect the abstract nature of their paintings. The words serve as dumb structures on which to hang sensual manipulations of color and surface.
One of the great surprises of the 1990s was the frequent inclusion of works by Owens, Essenhigh, Prieto, Calame, Parazette and other abstract artists with the non-abstract paintings of artists such as Kevin Appel, Sharon Ellis and Adam Ross in exhibitions like Spot Making Sense (Grand Arts, 1997), Abstract Painting, Once Removed (Contemporary Arts Museum, Houston, 1998) and Glee: Painting Now (The Aldrich Museum of Contemporary Art, 2000). Ellis and Ross paint shimmering images of visionary, otherworldly landscapes, while Appel is known for pale geometric depictions of imaginary modernist interiors. Shared by all these artists is a new interest in form, long discredited by conceptual art. More than simply retinal, neoformalist painting appeals to the viewers body through gesture, scale and the physicality of paint. Meaning and reference to earlier art, cartoons, psychedelia and science fiction are as significant as color, space and composition. Unlike Formalist painting of the 60s, the existence of meaning does not critically dilute the nature of this painting.

Neo Rauch, Hatz, 2002
Oil on canvas
Framed: 84 1/2 x 100 1/4 x 2 1/4 inches
Courtesy the artist, David Zwirner, NY & Galerie EIGEN + ART, Leipzig/Berlin
In contrast to neoformalism, conceptual abstraction is practiced by artists such as Jonathan Lasker, Thomas Scheibitz, Julie Mehretu and Damien Hirst, whose paintings derive from an anti-formalist impulse. Their works are not representations of abstract paintingsas might have been thought in the recent postmodern pastbut inscriptions or illustrations of ideas. In a related attempt to legitimize recent figurative painting, critics have also linked it to the conceptual project. Artists such as Luc Tuymans, Neo Rauch, John Currin, Peter Doig and Elizabeth Peyton are identified with a strain of artists working conceptually with figurative painting,9 and praised for their paintings capacity to convey conceptual content.10 But that content is ambiguous rather than straightforwardly narrative, as Russell Ferguson points out in a recent essay on the crisis in representational painting.11 According to Alison M. Gingeras, the prevalence of ambiguity demonstrates that figurative painting today has lost its legibility.?12 Figures, landscapes, urban settings and accessories are recognizable but not identifiable in a cumulatively narrative sense.
Although it might seem to defeat the purpose of conceptually based art, ambiguity was also an essential quality of the most rigorous strain of 60s conceptualism. Intentionally difficult and practically indecipherable, Art & Languages text pieces demonstrate the impossibility of transparent representation. While the words make sense, they have no relationship to objects or events in the real world. The difficulty encountered in the interpretation of works by Art & Language extends to Richters painting, as Buchloh understood it. David Salles arbitrary juxtapositions of unrelated figures and images exhibit a comparable ambiguity, as do Rauchs inexplicable episodes of human interaction in spatially expansive, retro-futuristic tableaux. The ambiguity and the instability of meaning, which seems arbitrary or at least in a constant state of flux, are hallmarks of contemporary figuration.
Despite revisionist attempts to resuscitate the reputations of Alex Katz and Fairfield Porter (in The Undiscovered Country at the UCLA Hammer Museum in 2004) and Francis Picabia and Bernard Buffet (in Dear Painter, paint me at the Centre Pompidou in 2002, in which Martin Kippenberger is celebrated as the prototypical conceptual painter), representational painting appears to be exhausted. While its goal of depicting observable reality was long ago assumed by photography, nonrepresentational paintingboth figurative and abstractis widely practiced and displayed. Given the potential for duplicity in photography (think Yves Kleins leap into the void) and Photoshop (think Oprahs head on Ann Margarets body), paintings capacity for truth-telling surpasses technological reproduction.
The veracity of figuration and abstraction derives from their human origins, whether expressed through the artists touch or mechanical devices, such as spray guns, masking tape or computer-generated sketches and studio assistants. As a paint-covered thing, rather than an immaterial image like a photograph or video projection, a painting has a convincing physical presence. There is something more to art than its skin, Thomas Hess wrote in 1968. Painting is not stuffed derma, and there are some physical and metaphysical bones beneath the illusion of two dimensions.?13 To be seducedmentally, visually or bodilyby a painting is no longer a stupid crime but a pleasure.
1?Christopher Knight, Fresh Paint, Los Angeles Times, 4 April 1999, Calendar, 6.
2?Ad Reinhardt, Art-as-Art: The Selected Writings of Ad Reinhardt, ed. Barbara Rose (New York: Viking, 1975), 50, 55.
3?Painters Reply, Artforum 14, no. 1 (September 1975): 26.
4?See Ian Wilson, Conceptual Art, in Conceptual Art: A Critical Anthology, eds. Alexander Alberro and Blake Stimson (Cambridge: MIT Press, 1999), 416-417 and Joseph Kosuth, Art as Idea as Idea: An Interview with Jeanne Siegel, in Art After Philosophy and After: Collected Writings, 1966-1990, ed. Gabrielle Guerico (Cambridge: MIT Press, 1991), 47-49.
5?Kosuth, Art After Philosophy, in Art After Philosophy, 18.
6?Mel Ramsden, Jeremy Gilbert-Rolfes As-Silly-As-You-Can-Get Brice Mardens Painting (Artforum, October 1974, The Fox 2 (1975): 8-10.
7?Benjamin H. D. Buchloh, Figures of Authority, Ciphers of Regression: Notes on the Return of Representation in European Painting, in Art After Modernism, ed. Brian Wallis (New York: New Museum of Contemporary Art, 1984), 120
8?Benjamin H. D. Buchloh, Gerhard Richter: Legacies of Painting, in Art Talk: The Early 80s, ed. Jeanne Siegel (New York: Da Capo Press, 1988), 111-17.
9?Matthew Higgs, quoted in Linda Yablonsky, What Makes a Painting a Painting? Art News 104, no. 4 (April 2005): 101.
10?Alison M. Gingeras, Lieber Maler, male mir Learning from Kippenberger: Figurative Painting as Provocative and Sincere, Critical and Sentimental, in Dear Painter, paint me Painting the Figure Since Late Picabia (Paris: Centre Pompidou, 2002), 10.
11?Russell Ferguson, The Undiscovered Country (Los Angeles: Hammer Museum, 2004), 94.
12?Gingeras, Lieber Maler, male mir, 10.
13?Thomas B. Hess, Willem de Kooning (New York: Museum of Modern Art, 1968), 23.
===
===
The New Repubic
JED PERL ON ART
Saint Gerhard of the Sorrows of Painting
Post date: 03.29.02
Issue date: 04.01.02
Gerhard Richter is a bullshit artist masquerading as a painter. His retrospective, at the Museum of Modern Art until May, is a colossal bummer–a hymn to deracination, a visual moan. This seventy-year-old artist works in paint on canvas, but what he sends out into the world are not paintings so much as they are Neo-Dadaist puzzles engineered to inspire philosophical flights of fancy among art professionals who are more interested in massaging their world-weary minds than in using their jet-lagged eyes. The Modern, that inner sanctum of art-world officialdom, has gone all out for Richter, bringing together some one hundred eighty-eight canvases that span forty years, so that museumgoers can see how he has packaged and repackaged his hold-everything-at-a-distance pose, serving up both realist and abstract images, both blurred gray photorealist scenes and coarsely colored rehashes of Abstract Expressionist brushwork. Robert Storr, the senior curator in the department of painting and sculpture who organized this show, will tell you that there is beauty in this chilly stuff, but all I see in Richter and his supporters is a loathing for painting's hellbent magic.
Everything in Richter's work is muffled, distanced, impassively ironic, as if it were being seen through a thick, murky sheet of glass. What some observers regard as the signs of hope that Richter sprinkles through his work–a photorealist image of a candle, or a blurry rendering of his young son–are witheringly calculated, like stills from an avant-garde soap opera in which the feelings are overcooked and bland. This vast show is an experience, all right: an experience of visual deprivation. At the Museum of Modern Art, Richter is presented as the painter-who-kept-painting-in-spite-of-the-death-of-painting; and to an art world that was once brainwashed into believing that painting was dead, he represents the newer painting-is-not-dead form of brainwashing. He plays the role of Saint Gerhard of the Sorrows of Painting. And a weird ennui, a kind of shared psychosis, hovers in the gallery air.
The exhibition begins with gray canvases done from photographs in the mid-1960s, after Richter, who was born and studied art in East Germany, moved to the West. Storr makes much of this linkage between Richter's coming-of-age in wartime and postwar Germany and those woozy monochromatic images of smiling relatives and humdrum household objects and figures in news photos, as if the dispiriting times in which an artist lives justify the creation of inert art. In his catalogue essay, Storr brings a honey-toned portentousness to a text that covers some seventy-five tightly packed pages. He is writing the life of the saint. The art world is Richter's wilderness. The mood is deprivation chic. "Transposing the frozen action of the photograph into the enduring but temporally ambiguous realm of painting," Storr explains, "Richter fastened on the emblems and ephemera of postwar life and distilled their often bitter essence in tonal pictures whose poetry is a combination of matter-of-fact watchfulness and unrelieved uncertainty." This sounds augustly metaphysical, but what Storr's distillations and "uncertainty" actually amount to are Richter's chilly moods. Gray can be one of the greatest weapons in a painter's arsenal, of course, if the restrained hues are mixed from rich colors so that they have fiery undercurrents, or if they are spaced and proportioned to create a visual music. But gray is just a logo for Richter–an advertisement for the tedium of postwar existence.
Richter presents his murky images with the certainty of scientific proofs. These paintings have a technological veneer. They are handmade objects with a weirdly mechanized gleam. And this effect turns Richter's canvases into the ultimate buyables for hip collectors who want something that fits right in with their electronic gadgetry and sparely expensive décor. The curators, the dealers, the collectors, the critics, and the artists who admire Richter's work–and they are legion–believe that he is showing them how we live now, as sensitive sad sacks in a manicured minimalist bubble. And of course the fact that Richter is German is supposed to guarantee the authenticity of his experience.
Although this show has been accompanied by mea culpas to the effect that we Americans are too slow to recognize new European art, the truth is that Richter is only the most recent in a series of European artists, and especially German artists, who have received a kind of manic adulation in the States; they include Joseph Beuys, Anselm Kiefer, Georg Baselitz, Sigmar Polke, and the photographer Andreas Gursky, who was the subject of a show at the Modern last season. For an audience whose attitude toward the very idea of art is one of fashionable doubt, an artist who can associate himself with the calamitous history of Germany takes on an extra-artistic importance. Richter has no interest in the visual histrionics that Kiefer once used to bulk up his shallow thoughts about the War and the Leader and the Homeland; but Richter's more restrained and veiled approach to German history is perfect now, when there seems to be some embarrassment about the lunatic fervor with which people fell all over themselves in praise of Kiefer a decade ago.
There is an analytical chill to Richter's work: if Kiefer was phony Wagner, Richter is phony Kafka. One of Richter's quixotic remarks (they come by the truckload) goes like this: "The picture [I guess he is referring to photography] is the depiction, and painting is the technique for shattering it." That little nugget takes you to the core of Richter's blandly nihilistic attitude. It is difficult to be impressed by all this talk about painting's being a destructive force, since the talk is being done by an artist who demonstrates no ability to construct a painting in the first place. Richter never escapes from the wanly monochromatic atmosphere of the paintings in those early galleries at the Modern, even when he is using raucous color in some of the abstractions done in more recent years. Color in Richter's work, red and green or black and white, has no contrapuntal effect. There is no sense of how a particular amount of color creates an emotional impact. The sizes of the paintings are arbitrary, and the color is all localized and trivialized, dispiritingly descriptive in most of the realist paintings and blandly emblematic in some of the abstract ones.
There is much talk about the range of Richter's work. He does paintings after news photographs and family snapshots, he does landscapes and seascapes and still lifes, he does abstractions with bold brushwork and others with viscous rivulets of paint. Yet everything that Richter paints brings us back to the same tepid, tamped-down vision. Each image looks as if it were excerpted from some vast, undifferentiated stock of images. In fact Richter owns such a collection of images, a compendium of snapshots and pictures taken from newspapers and magazines that he calls his Atlas; it was exhibited at the Dia Center in 1995. And Richter's compositions have the perfunctoriness of clippings. Where an image begins or ends is utterly arbitrary. And his brushwork–which is all trickery and gimmickry–never serves to structure the space.
You may wonder how Richter achieves those blurry, smudged effects in the photorealist works, or those layers of rumpled paint in the abstract ones. This is idle curiosity. Technique is just a form of visual static that disrupts–and confers a false importance upon–banal images. One of the motifs in the early part of the show is a roll of toilet paper. This inspires Storr to muse, in an interview with Richter: "What happens when the subject is not Titian but a toilet paper roll?" (Richter has taken an interest in an Annunciation by the Venetian master.) The talk that Richter's work inspires can sound like a skit on "Saturday Night Live," except that nobody is laughing.
The Museum of Modern Art does not give living artists retrospectives so much as it gives them sainthood, and Storr has done such a thorough job on Richter's behalf that even a skeptic would say that there is a weird fascination in the proceedings. There is a kind of diabolical logic to Storr's writing, so that anything that has ever been said about Richter's paintings, positive or negative, becomes a form of praise. Argue that his work is boring, and Storr explains that this is a beautiful boredom. Describe his work as anti-painting, and your comment becomes a way of insisting on the importance of the work as painting.
Richter's "contribution to the medium," Storr acknowledges, has been described as that of a "lethal parodist, dour undertaker, dry-eyed mourner, systematic debunker of cliches, demystifying conjurer of illusions, or as tenacious seeker of ways to make visible the longing and queasy uncertainty inherent in our hunger for pictures." Yet through it all Richter has, "paradoxically or stealthily, demonstrated painting's resiliency." Richter, Storr writes, believes that painting can be "`everything' shadowed by the fear of `nothing.'" He "has managed to straddle the divide between conceptual and perceptual art," not by "hedging his bets" but by "bridging the gap." Storr's catalogue essay is written with the intricate twists and turns of the expert courtier. The reader is lulled into believing that the entire history of art in the past fifty years flows straight into these stupefyingly lifeless paintings.
I do not dislike one or another of Gerhard Richter's paintings. I reject the work on fundamental grounds, as a matter of principle. I do not accept the premise on which his entire career is based: that in the past half-century painting has become essentially and irreversibly problematical, a medium in a condition of perpetual crisis. This is a counterfeit crisis, as far as I am concerned. This crisis is the invention of cynical marketers who, disguised as fashion-conscious nihilists, have managed to bulk up the essentially marginal figure of Duchamp until he overshadows Matisse, Mondrian, and all the hard-working makers and finders of the century just passed. Although he is quick to express his reservations about Duchamp, Richter would be nowhere without the Dadaist deity telling us that art has failed. Remove the phony crisis, remove the aura of oh-so-elegiac loss, and Richter's work dissolves right before your eyes.
The fundamentally unanalyzed fact of Richter's career is his slavish dependency on photographic images. We would do well to remember that only four years ago Robert Storr organized at the Modern a retrospective of Chuck Close, another contemporary artist whose career is grounded in a slavish dependency on photographic images. These are not artists who from time to time take an interest in the particular qualities of certain photographic images, or who find compositional or structural ideas in photographs that intrigue them and that they think of bringing into their work as painters. They cling to the two-dimensional images that the camera produces in order to concoct their own two-dimensional painted images. True, many of Richter's abstract paintings are done without reference to photographs. But even in these cases he reaches for the smoothed-out glossiness of a color xerox, and in other cases, the abstractions are based on photographs–some seem to be painted replicas of photographs of abstract brushwork. I think Richter wants all his non-objective images to have the melancholy feeling that adheres to coarse reproductions of Abstract Expressionist classics.
Basically, Richter and Close have ceded the act of creation to the camera. After which they dither around with notions of facture and style–they give their photographic material a personalized "artistic" spin. Yet there is always a deadness to this work: the deadness of their dependency on the photograph, of their inability to make anything on their own. They want us to believe that that deadness is a form of hipness.
Richter and Close are far from being the only contemporary artists who are hardpressed to respond to nature if they do not have a camera to do the looking for them. Countless academic portrait painters, who will never garner any attention at the Museum of Modern Art, depend on photographs when they do their work; and they are dismissed as sentimental hacks. With Richter and Close, however, photorealism has an avant-gardist eclat, as if their own inability to reconstruct the world could be blamed on modern art, which has left them photo-dependent. Richter spouts banalities about photography's taking on "a religious function. Everyone has produced his own `devotional pictures.'" And Storr trots out the old cliche about "photography's historical usurpation of painting's function of representing reality," as if great painters had not been working directly from nature straight through the twentieth century. There is no crisis in the artist's relationship with reality.
A few days after the Richter show opened I was in London, where the big event at Tate Modern is a Warhol retrospective. I do not regard Warhol as a great artist, but at least his early Marilyns and Lizes, which come out of the same years as the first works in the Richter show, have a funny punch. For a time in the early 1960s, Warhol was using the silkscreen process and his overheated color sense to give photographic images a boisterous graphic impact. After that, his work is nothing at all; but what really bothered me in London was not the assembly-line vacuity of the paintings that filled the gloomy halls of Tate Modern so much as the many groups of school-age kids who were being shepherded through the show. There are by now several generations of museumgoers who have been trained to regard photo-dependency as a fact of artistic life. And they may ultimately be unable to understand that the act of creation can be a genuinely independent act. They may find themselves going through the Richter retrospective at the Modern–or at museums in Chicago, San Francisco, and Washington, where the show is headed in the coming year–and feeling an emptiness in the work, but they will have no way of understanding this emptiness, since they have been taught to believe that there is no alternative to this photo-derived junk.
Gerhard Richter is a post-Duchampian message artist. The curators and the critics who embrace his work are the same ones who long ago accepted the most visually and intellectually impoverished forms of Minimal and Conceptual art as key late-twentieth-century achievements. They may still like that stuff, or at least they say that they like it, but art professionals know instinctively that the end-of-art pose may eventually threaten their very livelihoods. That's where Richter comes in. He is one of a number of artists who can get the art world beyond the nihilistic poses while aggrandizing the endgame attitudes. Richter is presented as the way out of our troubles, and it is truly extraordinary how many people are eager to climb on the bandwagon. Weeks before the show opened, The New York Times Magazine ran a huge profile of Richter by Michael Kimmelman, the paper's chief art critic, and when the work was up Kimmelman was at it again, praising Richter for maintaining "a kind of cruel faith" in painting.
There is something cruel about the Richter retrospective: it is cruel to see what it does to painting. Richter's work is preachy in a dry, quixotic way that many people mistake for seriousness incarnate. In place of structural dynamics, he offers mingy technical precision; the work has the cool fussiness of a lesson plan. I am reminded that Richter went to art school in East Germany at a time when Socialist Realism was still the order of the day, and in his twenties he actually did some murals of the Happy Worker variety. Half a century later Richter is still preaching to the converted, only to a different congregation. Everything he has done since coming to the West remains polemical, in a kind of après-postmodernism, art-is-over-long-live-art way. He gives a Socialist Realist rigidity to postmodernism's most cherished hopes and dreams. The work has a get-with-the-program sullenness.
That Richter does both representational and abstract paintings, and does them sometimes more or less simultaneously, may strike some people as a heartfelt response to the sense of multiplying possibilities of modern art. There is, after all, an inherent unity between representation and abstraction, and this may turn out to be the essential discovery of twentieth-century art, a discovery that is lodged deep in the achievements of Picasso, Matisse, and Klee. But Richter makes a mockery of this unity. His abstract and realist works may hang in close proximity, but they are locked in an intellectual face-off, as disconnected from one another as they are from any meaningful sense of structure, of paint quality, of metaphor, of poetry. He gives the giddy possibilities of modern art a hectoring, polemical presentation.
Richter gives us nothing to look at, but the chatter that swarms around his work is full of brain crushers. In the early 1970s Richter created 48 Portraits, a series of black-and-white photorealist renderings of the faces of modern worthies, ranging from Einstein to Stravinsky to Dos Passos to Hindemith. (It also includes artists who seem to have wandered into the twentieth century by accident, such as Puccini.) 48 Portraits, which hangs above a stairway at the Modern, may well be the most visually inert set of canvases ever displayed in this museum. That will seem like a criticism, until you read what Richter says about 48 Portraits: "Those were the typical neutral pictures that one finds in an encyclopedia," he explains to Storr. "The issue of neutrality was my wish and main concern. And that's what they were. That made them modern and absolutely contemporary."
When I look at a photograph of a modern artist whom I admire, such as Stravinsky, I do not find it neutral at all. I am excited by what I can learn about a person from a photograph. And I believe others are too. So why does anybody accept Richter's neutralist bilge? The only thing that I find more depressing than this charlatan is the passivity of the museumgoers who pass before his works: they may have an inkling that they are being had, but they are unable to trust the evidence of their eyes.
These paintings do not give off anything, but they are manipulative to a truly extraordinary degree. They hang there on the wall and insist on your making something of them. At times Richter wants us to make something out of nothing, as in the Color Charts, vast paintings dating from the 1960s and 1970s in which each rectangle is filled in with something like a commercial color mixture. (Even Storr doesn't know what to say.) At other times Richter aims to produce an intellectual chowdown. A prime example here is October 18, 1977, a series of fifteen black-and-white paintings from 1988 based on photographs and video footage related to the story of the Baader-Meinhof gang. This series, in which scenes from the misadventures of the legendary leftist group are given a grainy black-and-white elegance, are a dictionary definition of radical chic. As art, they are numb. As conversation starters, they are just the thing. You can wonder if several prison deaths were suicides, as the official accounts had it, or something else. You can wonder at what the murderous activities of these radicals tell you about German society. Storr has already devoted an exhibition and a book to these works; they are in the Modern's permanent collection.
Storr believes that these silly paintings reflect Richter's complicated political vision, as a man who has rejected the ideological extremism of communism (hasn't everybody?) but is also skeptical about the liberal society of West Germany. Storr looks at Richter's pallid exercises in political noir and thinks what he imagines are big, subtle thoughts. Richter makes him realize that "truth is fragmentary, that its enemy–ideology–is ultimately murderous, and that history is irremediable and, for the most part, irretrievable." Maybe what Storr and Richter are really saying is that the appropriate photographer was not at the scene.
There is a kind of self-help, twelvestep-program atmosphere around the Richter retrospective. From room to room, Richter confronts hard truths, and grows as a man and as an artist. Having begun with tough love, he is now said to have become a poet of an old-fashioned sort of romantic love. There is a Hallmark-card sentimentality about the excitement with which critics are saluting the recent portraits of his youthful wife and his young son, both of whom he paints in a soft-focus, dime-store-Vermeer style that is apparently easily mistaken for the real thing. The sourpuss conceptualist has matured into a Wordsworthian elder. Storr sees in Richter's paintings of his young son "an elusive mix of fascination, bemusement, and uneasiness, which is an adult manifestation of the devoted, puzzled, and wary gaze a child might direct at its parents." The vacuum-packed tenderheartedness of these recent works is seen as Richter's apotheosis; but the apotheosis turns out to be just another photo-op.
A little over twenty years ago, Richter and Warhol, these two artists who are currently the subjects of enormous retrospectives in New York and London, were among some three dozen artists included in an exhibition called "A New Spirit in Painting" at the Royal Academy in London. The show, which mingled the work of several generations, was hailed by Christos M. Joachimides, one of the curators, as telling the world that "the artists' studios are full of paint pots again and an abandoned easel in an art school has become a rare sight." "A New Spirit in Painting" featured the work of Neoexpressionists such as Schnabel, Baselitz, and Kiefer, and of harder-to-categorize artists such as Balthus, Kitaj, Auerbach, Freud, Twombly, and Helion, as well as established modern masters such as de Kooning and Picasso.
The London show generated a good deal of excitement, in part because it presented a broader range of work than you might normally expect from a trendsetting exhibition. But in the twenty years since 1981 there can be little doubt that the artists who have received the most attention are the ones who always remained open to the possibility that the paint pots might again be empty and that the easels might again be abandoned. True, Freud has had a phenomenal success, and Twombly has enjoyed a retrospective at the Modern. But among the representational painters included in "A New Spirit in Painting" who felt no need to slavishly mimic photographs, three who have had retrospectives in New York–Balthus, Freud, and Kitaj–have had those shows not at the Modern but at the Metropolitan. My point is not that Robert Storr and his colleagues at the Museum of Modern Art prefer certain artists while some of us prefer others. My point is that there is an ideology to their preferences, an ideology that is determined to deny the freedom that is inherent in the very act of painting.
As it happens, just a few days after the Richter show opened at the Modern to a round of thunderous applause, Balthus's last two figure paintings went on display at C&M Arts in Manhattan. (They will be there until sometime in April.) This extraordinary event has provoked barely a flicker of publicity, and yet these two canvases, done by one of the twentieth century's greatest artists when he was in his early nineties, instantaneously overshadow everything about the appalling Richter retrospective.
A Midsummer Night's Dream, completed in 2000 and first exhibited at the National Gallery in London, is a moonlit vision of a girl asleep in a rocky landscape. Painted with the delicate, flickering hand of a very old man, this dusky reverie, in purples and greens and golds, has already taken its place (at least in my judgment) among the Venuses and the nymphs and the enigmatic lovers of Titian, Correggio, Rubens, and Watteau. The second, unfinished composition shows a girl reclining on a daybed in a room where Balthus's final cat dreams a final dream while a dog lifts its head to a window and looks out at a mountainous landscape in which every curve echoes the young woman's angular body. Taken together, these two works show us the world that Balthus was conquering at the time of his death, a world in which the figures have a new kind of rococo attenuation and the jewel-like richness of the color is sometimes given a muffled padding of chiaroscuro. There can be no question that Balthus needed more time to bring the second painting, here called The Waiting, to the perfected state of A Midsummer Night's Dream. But A Midsummer Night's Dream, all by itself, constitutes one of the greatest gallerygoing experiences that New York has ever offered.
In London, A Midsummer Night's Dream found virtually no admirers. In New York, C&M Arts has been host to a small following of fanatical artists, but they are the fringe. I am sad about this, but I am not surprised. In an art world in which people are trained to admire Richter's techno-chic impersonality and Warhol's ghoulish exuberance, the painterly riskiness of Balthus's technique is going to be incomprehensible. And for anybody who is open to the experience of Balthus's A Midsummer Night's Dream, the whole argument about the end of painting, the argument on which Richter has been feeding for forty years, is immediately reduced to a howling absurdity.
The Gerhard Richter retrospective is the Museum of Modern Art's current definition of what matters in contemporary art. Of course no single exhibition can be said to define a museum's viewpoint, but considering the enormous size of this retrospective, and the fact that it is the second show that the Modern has devoted to Richter in recent years, and the critical position that Storr currently holds at the museum, there is reason to believe that we are in the presence of a signal event. The Richter retrospective is also one of the last shows that we are going to see in the museum's current quarters, which will close in May, at which point the museum will move its operations to Long Island City so that a vast expansion program that is slated to be completed in 2005 can go forward on West 53rd Street.
Thus the Richter exhibition takes on a Janus-faced aspect. We see the people who are in charge at the museum laying their bets on what has mattered in the past forty years, even as they suggest what will be remembered in the years to come. And what have they come up with? This painting without savor, without warmth, without life. The Museum of Modern Art used to be accused of developing and promoting a one-track way of thinking about twentieth-century art. This approach, which emphasized the logical development of a modern language of form, had a visionary power that museumgoers could accept as the whole truth or as some part of the truth, but in either case this vision gave the museum its fascination–and certainly its integrity. In recent years, however, that vision has eroded until it is unrecognizable, and by now all that the powers that be at the Museum of Modern Art want to do is blend in with whatever is happening in the art world at large. The Modern, for all its unrivaled collections and international clout, has become a wanna-be institution. The Richter retrospective is one more grim reminder that this museum that once led taste now only follows.
The Museum of Modern Art now imagines that the way to succeed is to join in and go along, so it accepts the standard-issue international art stars and whatever incoherent catch-as-catch-can view of the history of twentieth-century art will give that work its shaky legitimacy. This is the kind of tactical thinking that lay behind "MoMA2000," the recent overview of the museum's collections, which offered a variety of anti-chronological and non-chronological and thematic approaches, and was conceptually indistinguishable from the theoretical caprices that have turned so many European surveys of modern art into forgettable sideshows. It was during "MoMA2000" that I began to hear artists saying that they felt increasingly dispirited about the very prospect of going to the museum.
Critics of the Museum of Modern Art receive a standard response, which is that the museum has always had its critics, and that the biggest game in town is always going to take some big hits. Yet the entire question of content may be increasingly irrelevant at the Modern. The museum's attention has shifted from the development of a truly loyal public to the brute dollars-and-cents questions involved in figuring out how to get enough people through the doors to meet revenue goals and to satisfy the public and private funders who are supporting a vast expansion plan. There can be little doubt that, despite the downturn in museum attendance since September 11, the Modern will in the long run bring in the crowds. Richter is said to be a hit. And the museum has a blockbuster, "Matisse/Picasso," scheduled for Long Island City in 2003.
Yet when it comes to the issues that once animated this museum–how tradition relates to innovation and how both relate to the experience of the eye–there is a small but growing number of museumgoers who see the Modern as an institution that has not only lost its way but also lost its mind. No retrospective in recent years has had the inviolable lucidity of the great shows that William Rubin once organized. And nothing that the museum has done about contemporary art in recent years has really been daring or engaged: it has all been art-world business as usual. When I consider what has been going on at the museum and then realize that Richter's parched vision is what the museum is offering as its temporary farewell to West 53rd Street, I cannot help but wonder whether the Museum of Modern Art will ever again be capable of properly presenting the great feast of twentieth-century art that it once set before the people of New York City and the world.
Jed Perl is the art critic for The New Republic

Copyright 2002, The New Republic
===
BROOKLYN RAIL
by Alex Bacon
I think every observer of contemporary art sometimes wonders if warmed-over modernism is the only possibility left for abstract painting. Once the dominant expression of both the historical and the neo-avant-garde, but now pursued only by a select few, the mode feels locked into an endless repetition of long-tired tropes like objecthood, flatness, and material specificity; or else the esoteric investigation and extension of certain minor formal questions—what happens if the stretcher is placed this way, or made of this material, or put in dialogue with this kind of mark, and so on. On the surface Gerhard Richter's latest series, the Strip paintings (2012) he recently exhibited at the Marian Goodman Gallery, appear to be yet another symptom of this stale endgame.
Richter's Strip paintings solicit such a reading because they explicitly play with, by making reference to, aesthetic terms Richter has been working with for several decades now. To be specific, the Strip paintings take the image of a particular example of one of Richter's abstract paintings, "Abstract Painting 724-4" (1990) and submit it, with the help of digital software, to a complex set of rules for a game of chance that resulted in the fracturing of the painting into a horizontal patterning of 8,190 linear striations. Richter's 2011 artist's book Patterns documents many of the more than 4,000 patterns that his software-driven game generated, some of which Richter selected to be made up into paintings. The paintings themselves consist of a digital print of one of the patterns made up at a size ranging between roughly 60 to 80 inches wide by 60 to 120 inches long, mounted between aludibond and perspex, and hung on the wall of the gallery like a traditional oil-on-canvas painting.
The aesthetic experience of a given Strip painting is a very particular and unexpected one. From a distance, as in reproduction, the paintings are unassuming, seeming to verge on the decorative in their insistently flat patterning of stripes. However as one approaches a Strip painting, and allows its field to fill one's vision, fairly quickly a particular kind of optical experience begins to unfold as the viewer's brain attempts to process the information being relayed by his or her eye, and the experience is something like a descent of static across the retina. The eye tries to ascertain a sense of pictorial space by teasing out relationships between the individual stripes and their positioning across the overall pattern, but the attempt is somehow foiled by the precise way that Richter has calibrated the stripes and their coloration (or rather, has done so via the selections he has made from the many possibilities presented by the computerized game of chance). The eye remains caught, suspended indeterminately as it were, within this field of static color.
Instead of either resting flat on the picture's surface, or leading the eye into an abstract, fully optical space, Richter's stripes blur out vision, much in the same way that his familiar "Richter effect" of blurring representational photographic imagery makes it seem in those paintings as if we are looking at the image through murky water. In a photograph-based Richter the image before us never fully coheres, always seeming to be at a certain remove that we can never truly bridge, and as our eyes attempt to focus the image it only seems to pull farther away. This is a playing up of the constructed nature of photographic representation, yet in the new Strip paintings it is not the nature of photography that is being commented upon, or even of representation; rather—because the works are fully abstract—the same trope of blurred vision is made to operate at the level of perception itself, the object having been removed, the subject here is that act of perception made self-reflexive.
The Strip paintings generate this aesthetic experience because of our expectations of how to look at a painting, and as such our first demand—made unconsciously of course, because with eyes trained by centuries of cultural conditioning—is that the individual stripes separate from one another to establish a sense of abstract illusory space by demarcating different positions in that space relative both to one another and to the flat surface of the painting. Remarkably, this does not happen. My best guess as to why is that the individual stripes are too narrow, there are too many of them, and the range of color variation across them is too limited, in such a way that in trying to recall the works, they reappear in my mind as the "green" painting, the "red" painting, the "blue" painting, etc., even though I know very well that there is always something of a spectrum of color in each painting.
Add to this the scale of the work, the key—alongside the particular materiality of the thin plastic and metal support—to these paintings needing to be seen in person, despite ostensibly consisting of digital prints generated by a computer program. For the sense of scale that is achieved by a literally large format in combination with the particular materiality of a printed digital image of a regularized stripe pattern mounted between metal and plastic, is important because a certain sense of scale is necessary to establishing the field condition that generates the particular optical effect of that field as a vibrating, pulsating static haze suspended just off the wall and before the viewer.
In my opinion, even though we are dealing with visual perception, this is a step forward on Richter's part in the direction of a materialist project because these paintings radically deny the received wisdom that vision is natural and authentic. Of course vision is, like many things, the product of thousands of years of evolution, during which time it has developed in ways that are advantageous for survival, rather than to seamlessly convey "reality," which, in such a positivist reading is always imagined to be simultaneously shared and singular in its purported universality. We never see things "as they actually are," and to understand what I mean here about the constructed nature of perception we have only to think of how we experience a white room. The shadows that fall here and there are not physical properties of that room, but are rather ways that our brain makes sense of visual data such that we can navigate that space.
It is not in itself remarkable that a charged perceptual experience is the subject of Richter's new paintings, as he is far from the first to make the viewer's physiology the subject of a work, its medium even. There is a long, though much maligned, history of this in modernist art, arising with force in Europe in the 1930s as an offshoot of the international constructivist tradition of geometric painting, and its major early practitioners were Josef Albers, Victor Vasarely, and Auguste Herbin. Additionally, in the 1920s Marcel Duchamp had already anticipated art's increasingly retinal orientation with his rotoreliefs which—unlike the intuitively worked out paintings of Albers, Vasarely, and Herbin—were explicitly intended to play off the structure of the viewer's perception, in a manner that Duchamp devised himself, proud to have discovered a technique of optical stimulus not yet published in a scientific journal.
This making over of the viewer into the subject of the work by activating or, perhaps better put, subjecting, his or her perception to the terms of the work makes the rotoreliefs the direct predecessors of the Op-Art explosion of the 1960s when legions of artists, most now forgotten, devised all sort of elaborate devices for the titillation and provocation of the human sensorium, and in the process gave us what Barbara Rose characterized at the time as folk art for the space age. Alongside this populist form of optical art arose a more subtle expression of this desire to activate the senses, paintings by artists like Jo Baer, Walter Darby Bannard, Paul Brach, Robert Irwin, and Kenneth Noland, that have most typically been characterized as either Minimal or Color Field, respectively, but which are in fact concerned with making the viewer aware of the operations of his or her vision, of its constructed nature, via barely detectable pulsations of line, color, and field that occur at the edge of perception.
They have their direct precedent in the subtly glowing, shifting, and temporally unfolding fields of Ad Reinhardt's Black paintings. Reinhardt had himself arrived at this format in the early 1950s by working through the impasses of prewar geometrical abstraction—largely caught, as it had been then, between equally undesirable expressions of optical bombardment, on the one hand, and lifeless recapitulations of structure and form, on the other. The trick, then as now, is striking a balance somewhere in-between, or at least a step back from either of these limit cases wherein the subjectifying effects solicited when these lines are overstepped seems to remove them from the realm of painting—because they are either too much vehicles for optical spectacle, or are too much mute objects.
The desirability, in this case at least, of the work staying within these painterly boundaries is that if the painting can hold itself just before arriving at one or the other of those limit cases then there is the possibility, as in Richter's new Strip paintings, that a comment can be made on how vision delivers to us experiences of things in the world, rather than itself becoming one of those experiences by exceeding the limits of painting to emerge on the other side as either spectacle or decoration. It is by walking this thin line that the viewer can remain the author of his or her own experience, rather than the passive recipient of the effects dictated by the work—whether that is as either an optical stimulus or as a mute object commanding and determining the space around it.
In a moment where visual culture proposes ever more insidious and seductive reasons for our subjection there is the necessity for art to allow us the possibility, via a radical materialist neutrality, to carve out an imaginative space where we can determine our own subjectivity. The formal terms of Richter's Strip paintings generate a palpable tension between optical subjection and the excessive open-endedness of decorative neutrality, both of which are strategies, present everywhere around us in the products of the culture industry, that are directed towards numbing and defanging resistance, and are premised on our acceptance of vision's supposed universal and naturalized primacy. It is my sense that radical abstraction is most necessary at those moments wherein a particular structure of perception and experience has become so overdetermined and exhausted by its appropriation by the culture industry that, in an Althusserian sense, an outside has become as if fully foreclosed.
It is no coincidence that abstraction was born on the eve of World War I, was nourished by the Russian Revolution, and reemerged and was radicalized in the face of the horrors of the Vietnam War, May '68, and civil rights. At each of those moments it became clear that neither the traditional aesthetic counterstrategies of the avant-garde, nor the play with dominant representational paradigms was enough to truly create resistance. What minimalism proposed in the 1960s, and what Richter's Strip paintings propose today, is that in a moment where ideology and representation seem to have become one and the same the only answer is to gesture to an alternative space, a heterotopia to speak in Foucaultian terms, where that determination is, even if only for a moment, fictively suspended.
Like the child that crawls into a discarded cardboard box to take imaginative respite in its neutrality from the intense pressures to conform to one cultural demand or another, the best abstract work makes no impositions on, or demands of, the viewer, but instead allows him or her to reflect back on the nature of these demands, and on his or her place within them. This is not a pseudo-New-Age call for the viewer to determine his or her own destiny, or discover an inner true self that is somehow obscured by the dross of society: I am not naïve enough to think that such a state of self-determination can ever be found. But, while there might not ever be an inner authentic subject waiting to be released, there is the necessity that the subject be given the ability to step back somewhat and see laid out before him or her at least some of the various structures and possibilities of identification that bind him or her. In this way certain abstract work like Richter's is not merely compensatory, because it does not in fact offer to replenish something proposed to be lacking—phenomenological plenitude, for example—but rather suggests to hold, as best it can, all of these terms momentarily in abeyance—that is its radical neutrality.
Richter's Strip paintings allow for just such a self-reflexive opening up because their static optical haze locates the viewer perpetually at the moment just before spectacle—rendered as the optical bombardment that we expect to ensue, but which the paintings always hold at bay—closes down our subjectivity. Our potential for self-determination is revealed to be that brief moment, metaphorically as thin as Richter's stripes perhaps, before we are overwhelmed, and in the process it is suggested that it is in that very space that we might discover the potential for resistance. Richter is not naïve enough to think that art can tell us what to do, but rather that it can, at its best and most truly political (and this is a lot), direct us to a subjective positioning where the potential for action might be located. It cannot itself propose what those actions might be—after all that would be too much hubris on the part of the artist—but rather allows us the ability to even think what they might be in the first place.
It must be said that a position such as Richter's, of radical self-doubt, seems to be only truly available to an artist who has experienced a time when painting's access to radicality, innovation, and relevance was available, even assumed. Such availability simply does not exist for a young artist coming of age in the past few decades, let alone today, for whom painting has only ever been backed into a corner and embattled. How do you trouble conviction if you are not even aware of what it means to be convinced by a work of art in the first place? Further, is it even possible to have this experience of conviction today, as it was in the 1960s? While I may enjoy looking at painting, am even moved from time to time, I do not think I would use the term "conviction" to describe this experience, and I think that this is a condition of my own particular position within history.
This is not a call for a recentering of painting around old values, since much has been gained—intellectually, if not always aesthetically—in the medium having been tested, deauthorized, and problematized. Nor is it to say that interesting work cannot be done with painting in such a questioning, plural, and interdisciplinary mode—as indicated by the work of Wade Guyton, R.H. Quaytman, and Karen Sander, among others. What I am claiming instead is that this does not solve the issue, which I raised at the start of this essay, of how to push forward rather than endlessly track back and forth over recent history.
This is similarly not meant as a positivist call for a return to "originality," or to any other traditional values, but is rather an open call made in response to the present historical impasse, which is one where it is quickly becoming a condition of our moment that there is no longer any recent past to problematize and render indeterminate, as there was, say, in the 1980s, when the pious proclamations of Modernism (capital "M") were recent, and as such susceptible to rearticulation. Today's recent past consists of nothing but those recycled and rearticulated nuggets of the past, a situation which is, again, not in itself bad, and there is even a sense that appropriation still has something to say about our current social, cultural, and political climate—as in the corporate industrial junk aesthetic of an Isa Genzken.
However, the pressing question seems to me now to be whether we recycle and recontextualize those appropriations to make of them something like a post-post-modernism, which I can't imagine holding much interest except for the art world initiate—and even then how much interest, really?—or do we instead perhaps think of the present as demanding again the kind of abstract art that intervened in the early 20th century in those difficult moments of war and social revolution? Abstraction, and painting even, may have a renewed role to play in the contemporary moment, or that is the sense I had standing before Richter's Strip paintings, because they made it clear to me that there is new ground to be broken in terms of engaging with how perception operates in our contemporary moment, and abstract painting has always had the best tools at its disposal to deal with those kinds of perceptual problems. Of course the jury is still out, but in the meantime the fact that Richter's own working through of his back catalogue, via a tried-and-true methodology of chance and the technologized readymade no less, to get at something new and of the moment suggests that there might be some fresh air on the horizon after all. Though it remains to be seen how a young artist might obtain a level of nuanced historical awareness, the lack of which has become almost a defining characteristic of my generation, approaching the level Richter necessarily had to have had in order to paint these paintings.
About the Author
Alex Bacon is a Ph.D. candidate in Art & Archaeology at Princeton University and is currently preparing the catalogue raisonne of Ad Reinhardt's Black paintings. His most recent publications on contemporary art include essays on Francis Alys and Gilbert & George. He is also the editor, with Hal Foster, of Richard Hamilton (MIT Press, 2009).
====

Essay by Lynne Cooke

In my picture atlas…I can only get a handle on the flood of pictures by creating order since there are no individual pictures at all anymore.

-Gerhard Richter

In 1964 Gerhard Richter began amassing onto panels photographs he had collected over the previous few years–sometimes as potential sources for his paintings and sometimes on their own account. Eight years later these and subsequent related panels were exhibited in Utrecht, Holland, under the title Atlas van de foto's en schetsen (Atlas of photos and sketches). Since then Richter has continued, albeit intermittently, to supplement his "picture album."1 And periodically it has been returned to public view: it was shown in 1976 in Krefeld, 1989 in Munich, and 1990 in Cologne.2 Recently updated, it now is comprised of almost six hundred panels and some five thousand photographs.

Atlas is not quite as homogeneous as its first panels seemed to predict. While they contain mostly amateur snapshots together with reproductions from newspapers and popular magazines, these categories were rapidly expanded to include portraits, pornographic imagery, and pictures of famous historical figures and events–Hitler and concentration camp survivors among them. In addition, the artist's own photographs, working sketches, and seemingly casual views and vistas soon infiltrated the increasingly heterogenous array. That Atlas would serve other functions than simply those of a repository for storing memorable images became evident when sketches for installations, plans for public commissions, technical drawings for domestic furnishings, and collages of hypothetical settings on a truly monumental scale were added.3 More recently, large sequences of almost serially produced landscapes, travel vistas, and still lifes have been incorporated, suggesting that once the piece grew, the artist began to orchestrate it in terms of an overall composition, establishing larger rhythms, conjunctions, and references among the parts, and instituting a more strictly gridded layout. That is, what initially had a contingent, improvisational, cumulative character has taken on, with time and with repeated public presentation, a certain internal logic and dynamic peculiar to itself. In this way an album has metamorphosed into a potentially encyclopedic project, notwithstanding the personal, provisional, and incremental impulses continuing to generate it.

It is apposite that photography is the pivot of this, the most extensive work in Richter's oeuvre. A constant in his art of the past three decades, for him it has always had a dialectical relationship with painting. Given that questions of representation lie at the heart of Richter's enterprise, this relationship has inevitably proven a shifting, mutating one–from the early sixties when photography provided motifs for paintings to the past decade when the artist has both overpainted photographs and exhibited as prints photographs of certain paintings originally generated by rephotographed photographs. Dave Hickey has persuasively argued against the canonical historical rationale for the changes that took place in the practice of painting after the advent of photography: namely, that painting changed because photography appropriated its descriptive and representational functions. "Richter's photo-paintings infer,"Hickey argues, "…[that] painting changed after the advent of photography not because photography usurped its descriptive function, but because photography prioritized it, thus valorizing the referent over what it signified."4

If photography provided the painter, faced with the question of what to paint, with certain basics, abstraction offered another set of possibilities that were, for Richter, equally but not necessarily more plausible; abstraction and figuration, he believes, have parallel status as pictures. Through recourse to mirrors, panes of glass, and small reflective aluminum spheres, Richter then further permutated this preoccupation with representation by wedding these works to their contexts. Incorporating the surroundings–in effect, an idiosyncratic mode of working in situ–allowed him to extend in more encompassing ways the dialectic between what is seen and what is represented, as well as the media of that representation.

Richter has frequently asserted that he has no program and no ideology, and that he proceeds according to no preconceived plan. For all its compendious nature, Atlas is governed by no overriding logic and no polemic. Unlike, for example, Bernd and Hilla Bechers's projects, Atlas is not an archive: there is neither a coherent and systematic compilation of an identifiable body of material nor an archaeological exhaustion of a specific subject. In retaining a hybrid identity, Atlas loosely adheres to some of the preoccupations informing Richter's paintings without being exclusively governed by them. Most of its recent components are photographs taken by the artist himself rather than images culled from published sources, corresponding to the fact that since 1975 Richter has seldom depended on found motifs for subject matter. Not only are the initial images now his own, but they are often made in closely related series or sequences. Nonetheless, those that have been retrospectively included in Atlas do not necessarily constitute all that the artist took of any particular motif, nor are they always the very ones that provided the models for individual paintings. Images only exceptionally stand alone, independent and iconic; on such occasions they are framed within pencil borders as with presentation drawings, contextualized in hypothetical installations, or masked and glued to sheets onto which color studies can be developed in preparation for painting. The relational character of the groupings within most of the panels is fully in accord with the contingency underpinning the presentation of the work as a whole. For, the arrangement of the panels follows a loose rather than strict chronology, with placement determined in part by the character of the venues–wall dimensions, heights, and proportions–in which Atlas is to be exhibited. Sequencing and grouping is thus employed to establish a mode of reading that is differential and contextual.

Faced with the mass of imagery available today, Richter asserts that all one can do is try to order it. He makes no attempt to offer an overriding interpretation, there is no promise of comprehensibility and definitiveness of the kind vouchsafed in an archive or by archaeology. As Benjamin Buchloh astutely notes, the relationships between the images "generate meanings and disintegrate readings."5 Hence, something provisional and resistant to precise meaning emerges in Atlas, something which Buchloh eloquently characterizes as a check both against the impulse to generate understanding and the ever-present desire for it. Atlas hovers, therefore, between the promise of taxonomic order as devulged in the archive and the total devastation of that promise, which is implicit, for example, in the amorcellated, antirelational potential of photomontage. The images, fragments or details are commonplace, almost stereotypical. In their sheer ordinariness, conventionality, and ubiquity, many of these photographs seem almost interchangeable or generic, and hence serve to underplay those staples of photographic discourse: the photo as icon and the photo as index. They approach the condition Richter seeks for his paintings, which as pictures are located always between the concrete and the abstract. Buchloh argues persuasively that "We can no longer speak of 'photography' in terms of a homogeneous formation of practices, discourses, and institutions (no more than we could speak of 'politics'). Photography can be discussed as a private phenomenology and as a partial semiotics, but not as a coherent, comprehensive history."6 At a moment when the digital is replacing the analogue and the dominant paradigms of photography are undergoing a sea-change, Atlas returns the question of the referent to centerstage.

Notes

1. "Gerhard Richter/Jan Thorn-Prikker: Ruminations on the October 18, 1977 Cycle," Parkett 19 (1989), p. 143.

2. Small sections of Atlas have been shown on occasion, for example, in the recent retrospective, "Gerhard Richter," Kunst- und Austellungshalle der Bundesrepublik Deutschland, Bonn, 1993.

3. In a recent interview, Richter spoke of the "dream of mine–that the pictures will become an environment or become architecture, that would be even more effective. Quoted in Dorothea Dietrich, "Gerhard Richter: An Interview," The Print Collector's Newsletter 16, no. 4 (Sept./Oct. 1985), p. 130. In effect Atlas does this when fully on view.

4. Dave Hickey, "Richter in Tahiti," Parkett 35 (1993), p. 86.

5. Benjamin H. D. Buchloh, "Gerhard Richters Atlas: Das Archiv der Anomie," Gerhard Richter, vol. 2 (Bonn: Kunst- und Austellungshalle der Bundesrepublik Deutschland, 1993). Translation by Benjamin H. D. Buchloh.

© 1995-2003 Dia Art Foundation