Opinions expressed by Forbes Contributors are their own.
Frieze London and Frieze Masters saw numerous million-dollar sales over the past week. At Frieze London, 2015 Damien Hirst went for over $1.2 million at Frieze London this week. The piece, "Holbein (Artist's Watercolours)," was sold at White Cube's booth within the first hour of the art fair, and depicts the hues of the renowned Japanese watercolor manufacturer. Lisson Gallery sold Ai Weiwei's "Iron Root" for €500,000, while at Kurimanzutto, a Gabriel Orozco went for $900,000. At David Zwirner, British artist Chris Ofili's "Midnight Cocktail" painting went for $750,000.
Over at Frieze Masters, Marlene Dumas's "Magdelena" went for £3.5 million at the Hauser & Wirth/Moretti Fine Art booth. Other million dollar sales include a $2.27 million Gunther Uecker, called "Weibe Spirale," a latex-and nails-on-canvas piece, at Cardi. David Zwirner sold Bridget Rilley's (2009/1970) work "Vapour 3" for $1.4 million. At John Gunther Rare Books, a Simon Bening went for €3.8 million.
==
ARTSYArtistsArtworksShowsGalleriesMuseumsFairsAuctionsNewsMore
What Sold at Frieze London
Oct 17th, 2015 11:38 am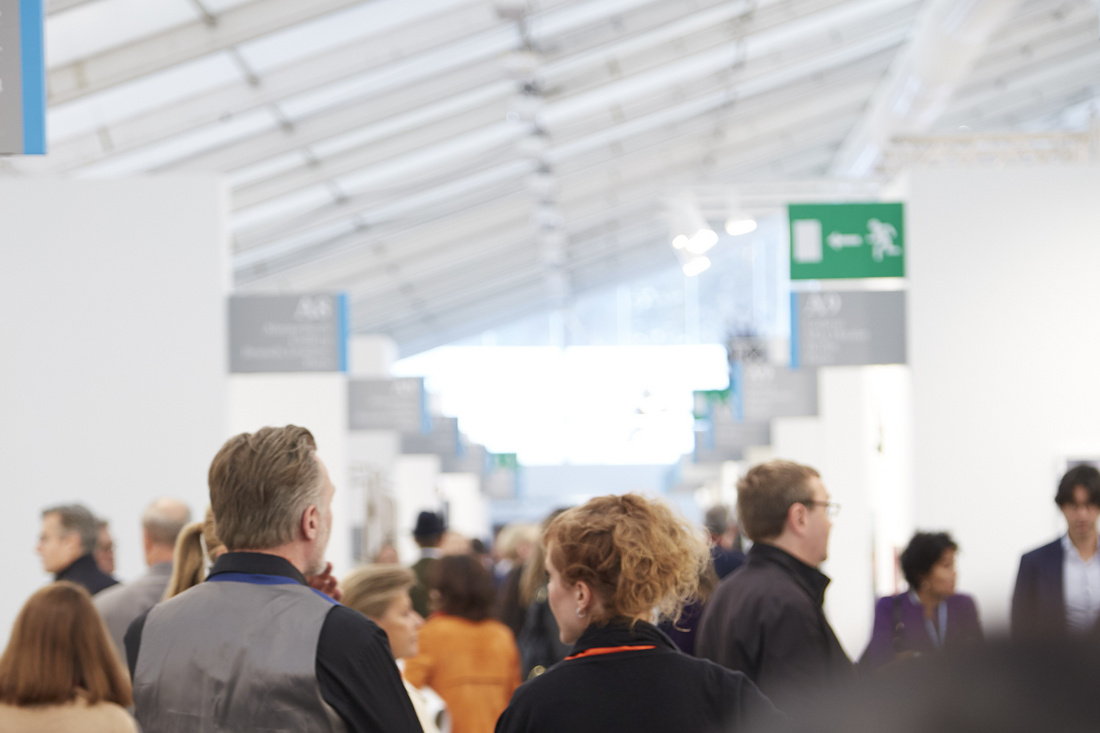 The 13th edition of Frieze London comes to a close today. With the economic forecast hazy, especially for increasingly important art market centers in Asia, worry was rife ahead of the London fair's opening that 2015 would be a slow year for collecting. But despite sales not being the feeding frenzy that not so long ago characterized several fairs across the art market calendar, a steady stream of five- and six-figure acquisitions left Frieze dealers more than satiated as the week's action wound down.
With Frieze London and Frieze Masters opening on the same day for the first time since Masters was introduced in 2012, new artistic director for the Americas and Asia Abby Bangser told Artsy, "Attendance on preview day of VIPs was record-breaking, and that's continued throughout the rest of the week." Exact opening day figures for Frieze London remain pending. However, the fair did report a whopping 260% increase in collectors and VIPs attendance to Frieze Masters on opening day, including Eli and Edythe Broad, Benedict Cumberbatch, Diana Picasso, and Budi Tek.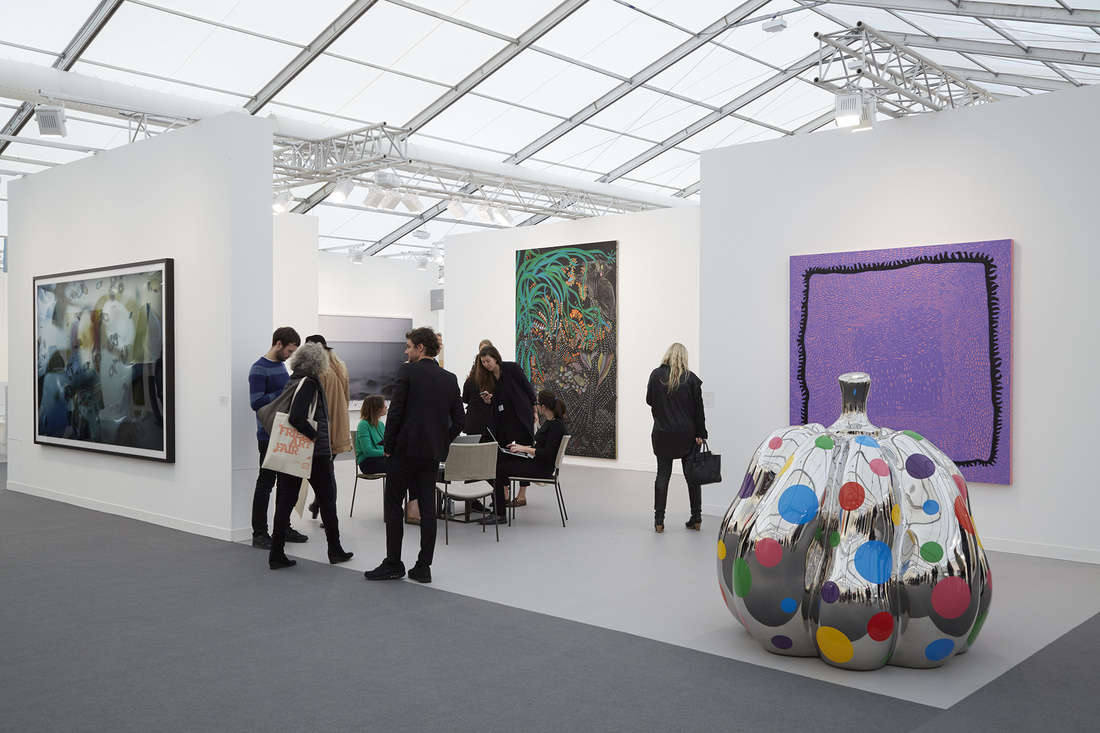 And indeed, as is the norm, Tuesday's sales led the pack where price was concerned. White Cube partner  Daniela Gareh reported continued success with "two new bodies of paintings by Damien Hirst," including the $1.2 million sale of Holbein (Artist's Watercolours) (2015). (Bangser confirmed via telephone on Friday evening that such levels were representative of the high end of transactions reported to the fair thus far.) "Sales across the board were good throughout the week," added Gareh on Saturday morning, noting further sales of works by Andreas Gursky, Tracey Emin, Theaster Gates, Imi Knoebel, Christian Marclay, Cerith Wyn Evans and Eddie Peake, among others.
David Zwirner placed Chris Ofili's Midnight Cocktail (2015) in a collector's hands for $750,000 on Tuesday. Among other sales, Kerry James Marshall's Untitled (Toe Painter) (2015) also went on opening day for an unreported sum, ahead of a retrospective next April at the Museum of Contemporary Art Chicago, which will then travel to the Met Breuer, and MOCA L.A.
L.A., London, and Berlin's Sprüth Magers placed Jenny Holzer's LED sign sculpture All Fall (2012) in a U.S. collection for $500,000. The artist's redaction painting TOP SECRET NOFORN 11 (2011) also sold, this for $250,000. The booth presents several mini-solo exhibitions, from which two works by Thomas Scheibitz—Portrait Marco Dente (2015) and GP 160 (2011)—found takers for €63,000 and €35,000, respectively; as did four pieces by Thea Djordjadze for between €24,000 and €28,000. The gallery also sold their striking selection of pieces by Ryan Trecartin, ranging from $18,000–45,000.
Lehmann Maupin had a banner start to the fair. The gallery sold no fewer than six works by YBA Tracey Emin (price: £15,000–225,000), a pair of panel paintings by Mickalene Thomas from $125,000–175,000, and Nicholas Hlobo's Chwetha (To Poke) (2015) for $80,000–120,000 and Isilima sesinambuzane phezu kwechibi (2015) for $40,000–60,000, among others. Do Ho Suh was the star of the booth, however, with four of the artist's thread works on paper and fabric installations finding takers. Hub, London Studio (2015) was the pinnacle of the group, selling on the range of $350,000–450,000.
Suh is also prominently showcased at Victoria Miro's stand. This Frieze, the gallery presents just three artists: "We wanted to do a more focused presentation this year, going in-depth to give a much better sense about what each artist is up to," said Oliver Miro, who described the response as "really fantastic." Sculptures by the Royal Academy's youngest artist, Conrad Shawcross, were a particular hit, priced at £30,000–70,000. Each of the gallery's five monumental canvases on view by Spanish painter and rising star Secundino Hernández had sold, priced from £25,000–75,000. Several of those pieces went to museums, one in the U.K. and one "in the southern Hemisphere," a discrete Miro offered.
Paris's kamel mennour saw huge success with works by Camille Henrot. "The show is sold out," said the gallery's Helena Mierzejewska on Friday afternoon. All eight editions of the booth's central sculpture, Retreat From Investment, were spoken for, priced at €150,000 each. "It's the first time she worked in such a big scale," said Mierzejewska of the work, which is redolent of Henry Moore. Numerous watercolors on paper, mounted on dibond, ranged in price from €22,000 to €60,000. "They explore the everyday indignities that we encounter: nail biting, virtual sex, situations that remind us of our human side," added Mierzejewska.
"There's a real moment for Camille right now," said KÖNIG GALERIE's Sarah Miltenberger, who was also showing new works by Henrot. The French artist's exhibition "The Pale Fox" runs through November 1st at KÖNIG, which sold both ceramics (now sold out at €45,000 apiece) and large-scale works on paper by Henrot from her 2014-2015 series, "The Tropics of Love." Kiki Kogelnik's painting Woman and Scissors (1964) also sold for $82,000, building on momentum from her inclusion in Tate Modern's current show "The World Goes Pop." A number of pieces by Jeppe Hein, Jorinde Voigt, Alicja Kwade, and Katharina Grosse had also found their way into collectors' hands by Friday afternoon.
Untitled, 2015
mennour wasn't the only gallery to sell out its booth. Shanghai's Antenna Space, which presents a solo installation of Guan Xiao, quickly saw the three-part work Documentary: From National Geographic to BBC (2015) sell to the Zabludowicz Collection. "This is a sequel to the work shown at the New Museum Triennial," said director Simon Wang. "This is the third edition. The others were collected by Adrian Cheng and another very prominent private Chinese collection," out of their concurrent show of Guan at the gallery, Wang added. "But we wanted to place one into an influential European connection." Price? On the range from €30,000–40,000.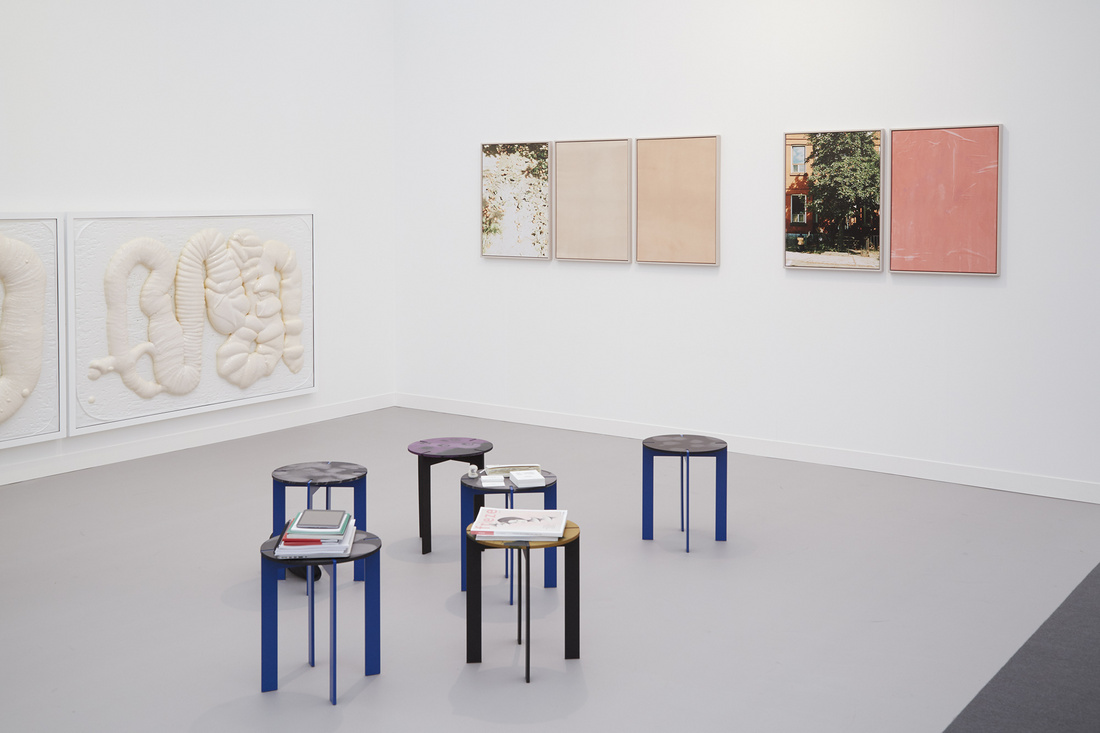 Sales across the fair's Focus section were a mixed bag, reflecting a current tendency away from very young, and thus potentially financially risky, work. Several gallerists cited that a lack of urgency in purchasing was indeed making itself felt. But nonetheless, works from many, such as High Art's solo presentation of Pentti Monkkonen were finding their way to collectors. High Art co-founders Romain Chenais and Jason Hwang, and fellow galleries Crèvecoeur, Antoine Levi, High Art, Sultana, and Gregor Staiger, will launch their own fair next week—Paris Internationale, an event hotly anticipated among several of Frieze Focus's hipper exhibitors. "It's really going to be young, emerging art," said Chenais. "We don't know how people will react, whether they will just visit or if they will buy, but there is a lot of excitement around it at the moment."
One imagines Frieze might be surprisingly pleased that a group of Focus exhibitors would be starting an art fair themselves. It's one more event to add to the already nearly-300-line-long tally of fairs on the annual calendar. But the London fair's lifeblood (at least where branding is concerned) and roots remain its unparalleled selection of young dealers and new practices. And that which contributes to the health of the emerging market will, ultimately, be to Frieze's benefit.
—Alexander Forbes
====
Left to right: Chung Sang-hwa's "Untitled," 1987, and Albert Oehlen's "Untitled," 1991, both on view at Frieze Masters.
(Courtesy Hakgojae Gallery/Courtesy Skarstedt Gallery)
LONDON — The 13th edition of Frieze London in Regent's Park opened to V.I.P. cardholders on Tuesday morning, the same moment as its younger sister fair, the four-year-old Frieze Masters, opened its doors far across the manicured park.
Since it's impossible to be in two places at once, choices were made and it appeared the bigger queue was at the contemporary fair where visitors were greeted in the entry hallway by rather grim collaborative sayings painted in white on black backgrounds, including "Overcome your challenges or they will reappear" and "Don't Stop Now—The End is Near."
That sobering, black on black hallway, dotted with what appeared to be reclaimed prisoner benches, complete with stationary metal hoops to accommodate handcuffs or chains, wasn't exactly inviting. But things perked up once in the central meeting point of the grandly proportioned and bespoke tent, as the more familiar rituals of art commerce slowly kicked into gear.
At London's White Cube, a brand new Damien Hirst, "Holbein (Artists' Watercolours)" from 2015 in couch enamel and sign writing paint on canvas, sold right away for £750,000 to a US collector. The piece could be viewed as a very distant cousin to the stunning "Gerhard Richter Colour Charts" exhibition at London's Dominique Levy, which includes nine paintings from the original 1996 series. Hirst's mammoth chart at 94 by 158 inches consists of rectangular shaped color swatches running nine rows across and nine rows down the busy canvas.
At New York/London's David Zwirner Gallery, Kerry James Marshall's exuberant figurative painting "Untitled (Toe Painter)" from 2015, in acrylic on PVC panel and measuring 60 by 60 inches, sold to another American collector, but the gallery declined to disclose the price. The gallery now represents Marshall in London. Also at Zwirner, Chris Ofili's large-scale painting "Midnight Cocktail" sold for $750,000.
At London's Lisson Gallery, a vibrantly colored and patterned abstraction by New York painter Stanley Whitney, "Inside Out" from 2013, scaled at 96 by 96 inches in oil on linen and representing his debut at the gallery, sold for $85,000. At least three of the artist's six untitled smaller works, each measuring 12 by 12 inches, sold for $15,000 apiece during the first hour of the V.I.P. preview.
Lisson also sold Ai Wei Wei's purple hued "Iron Root," in cast iron and auto paint from 2015, for around half a million euros to a Middle Eastern client, according to the gallery. The artist is currently featured in a survey exhibition at the Royal Academy, including an inviting ensemble of sculpted trees installed in the courtyard.
New York/London/Zurich/Los Angeles's Hauser & Wirth presented small scale sculptures by gallery artists on identically sized pedestals, affording pleasurable, 360 degree views of the little forest of sculptures that gallery partner Paul Schimmel described as "field of dreams." A coated glasswork by Larry Bell, "Cube #10-1-92" from 1992 and standing 10 inches high, sold for $135,000.
At Paris/Salzburg Thaddaeus Ropac Gallery, a huge Robert Longo diptych, "Untitled (Holy Tree/Cedar)" in charcoal on paper from 2015 and measuring 102 by 128 by 4 inches, sold to a European collector for $650,000, and a 72 by 72 inch landscape by Alex Katz, "The Road" from 2015 and evocative of the Maine woods and its stellar light, sold for $390,000. Ropac also sold Sturtevant's appropriated damsel, "Warhol Licorice Marilyn" from 2004, for around $275,000.
"I was very impressed with the energy of the fair this year," said Polly Robinson Gaer, executive director of Ropac in London, "especially since our price points are very high compared to the other booths, so we're really pleased with the outcome."
It was about at this juncture, some 2 ½ hours into Frieze London with its 164 galleries, that I remembered my mission was across the park at Frieze Masters.
A brisk 15-minute walk later, the dirigible-like silver outline of the Masters' tent appeared and London's mini-answer to TEFAF, the European Fine Art Fair in Maastricht, but with better 20th-century art, unfolded.
It quickly became evident that last year's iteration with Helly Nahmad Gallery's exquisitely entertaining "The Collector" installation has gone viral here, with a number of galleries trying it on, bringing a mix of art and furniture together with a patron saint dealer or character added to the flavorful mix.
London's Richard Nagy Gallery did it with German Expressionist works and vintage Austrian furniture, Dickinson staged an ambitious "Masters of Cubism" art salon as a homage to Paris dealer Leonce Rosenberg, and cooperating dealers Moretti (London) and Hauser & Wirth combined 14th-century Italian painters with a modernist and contemporary cast of Hauser & Wirth's deep back room, including a sultry yet somehow religious Marlene Dumas, an ink on paper of a nude girl, "Magdalena (de Pelsie)" from 1996. The Dumas hung alongside the 14th-century Luca de Tomme's "Madonna and Child with Christ Blessing" in tempera on panel. It doesn't take long to get the idea that the dealers and Frieze Masters would like you to embrace (and collect) the sweep of those centuries.
The acquiring pace at Frieze Masters appeared slower this year as even top guns, such as New York's Van de Wegh Gallery, with works by Roy Lichtenstein, Andy Warhol, and Jean-Michel Basquiat, and Acquavella Galleries, armed with a stunning Claude Monet landscape of Monte Carlo from 1883 and a rare and beautiful family portrait by Edgar Degas ("Henri Rouart et sa fille Helene") from circa 1877, priced at $10.5 and $8 million respectively, had no initial takers.
There was some action at New York/London's Skarstedt Gallery, usually a hotbed of notable transactions, as Alighiero Boetti's  "841/ Beige Sahara" from 1967, consisting of industrial spray paint on cardboard and cork lettering at 27 1/8 by 27 1/8, sold in the $500,000 range and Albert Oehlen's untitled and rather biomorphic abstraction from 1991 sold for around $700,000 to a European collector.
"It's O.K.," said Per Skarstedt, shortly after chatting with American painter Eric Fischl, who was visiting the stand. "We're hoping to sell more art."
Similarly, at New York's Sperone Westwater Gallery, an early and rarely seen Joseph Kosuth, "One and seven-Description II" from 1965 and consisting of seven acrylic on canvas panels, each measuring 15 by 15 inches, sold for $300,000.
The hottest sector sales wise appeared to be the so-called "Spotlight" section of galleries hosting one-person stands, led by Seoul/Beijing's Hakgojae Gallery and the Minimalist, Robert Ryman-esque work of Korean artist Chung Sang-hwa. The booth sold out, with the seven featured paintings from the 1970s and '80s going for $500,000 to approximately $1 million.
"His prices have jumped five times what they were last year," said Eunsoo Woo, Hakgojae's art director. "Still, we were surprised at how quickly they've sold." Buyers for Sang-hwa hailed from the US, Europe, Korea, and China. His name will become more familiar to Westerners soon, as Dominique Levy and New York's Greene Naftali will mount joint New York shows in 2016.
The Dominique Levy stand here also sold a Chung Sang-hwa, "87-12-7" from 1987 in acrylic on canvas for $540,000, the first work of the artist the gallery has sold.
Back to the Spotlight stands, London's Stephen Friedman sold New York sculptor Melvin Edwards's untitled installation from 1970, comprised of hung barbed wire and chains, and installed here for the first time, for $300,000 to an American collector. The gallery also sold a group of Edwards's spray paint and watercolor on paper works from 1974 at $25,000 each.
In that same rich and relatively undiscovered vein, the late African-American abstract painter Sam Gilliam was featured at Los Angeles's David Kordansky Gallery with a lyrical presentation of the artist's Drape series, which sold at prices ranging from $225,000 to $500,000. Of those uplifting works, "Swing Sketch" from 1968, comprised of acrylic on canvas with a leather cord, sold for $350,000.
Frieze and Frieze Masters run through October 18.
==
ARTNEWS
What Sold on Day One at Frieze London 2015
Lorena Muñoz-Alonso, Thursday, October 15, 2015
With the queue to access the preview of Frieze London at the coveted 11 a.m. slot stretching all the way towards the entrance of the park, the hotly anticipated 13th edition of the London fair got off to a great start. Or did it?
In terms of attendance at least, there is little doubt that each successive edition of the fair is more successful than the year before. Perhaps even too much so for its own good. Many collectors complained about the queue to the supposedly exclusive early viewing, huffing and puffing as the crowds trundled towards the tent's doors. Others took a more practical approach. "I saw the queue and decided to start by Frieze Masters instead, and come back to Frieze London later," Turin-based super collector Patrizia Sandretto Re Rebaudengo told artnet News. Norwegian collectors Venke and Rolf Hoff, from KaviarFactory, also seemed slightly overwhelmed by the crowds.
But the hordes did translate into a flurry of early sales for many blue chip galleries. London's White Cube—which barely ten minutes into the preview was packed with people, including actor Benedict Cumberbatch and his wife, Sophie Hunter—sold a new work by Damien Hirst, entitled Holbein (Artist's Watercolours) and with a price tag above $1.2 million, within the hour. Another canvas by Hirst, Super Centre (2014) also sold during the first hours, proving that the notorious YBA is ripe for a comeback, and that his new museum Newport Street Gallery is helping to rekindle his market. White Cube also sold works of heavy weights like Andreas Gursky, Antony Gormley, Theaster Gates, and Christian Marclay in the first hours.
At Hauser & Wirth, an unusual grid display—in which dozens of sculptures by gallery artists were displayed on plinths—was commanding the public's attention, distracted only by the presence of Princess Eugenie, trying to fulfil her duties as associate director of the gallery while posing demurely and politely for the paparazzi. Sales during the first hours of the fair included works by Isa Genzken,Martin Creed, Hans Josephsohn,Takesada Matsutani, Gottfried Gruner, and Djordje Ozbolt. A work by Larry Bell changed hands for $135,000, while a new sculpture by Phyllida Barlow sold for £25,000.
Over at Galerie Thaddaeus Ropac, things were looking rather peachy. By Tuesday afternoon, an Alex Katz painting, Road (2015), had sold for a price in the region of $400,000. A large drawing by Robert Longo changed hands for $650,000, while Tony Cragg's sculpture Runner sold for €300,000. Nearby, Sturtevant's Warhol Licorice Marilyn (2004) found a new owner for $250,000.
Collectors like Valeria Napoleone, Eskandar and Fatima Maleki, and Anita Zabludowicz were spotted scanning the booths, as were Candida Gertler from the Outset Contemporary Art Fund, the director of Tate, Nicholas Serota, uber-curator Hans Ulrich Obrist, and Simon and Michaela de Pury. The mood on the aisles was enthusiastic, with many dealers waxing lyrical about the diversity of collectors descending upon Regent's Park from all four corners of the world.
Galerie Max Hetzler reported a slew of sales in the first day, including Raymond Hains's Il est recommandé de fermer la pochette avant de frotter l'allumette (1968), which sold for €70,000 to a European collector, Albert Oehlen's Untitled (Baum 31) (2015), which sold for €450,000 to London-based collectors, and Günther Förg's Untitled (2008), which sold for €300,000 to an Asian collector looking to buy works by established artists from Germany and France.
At London's Victoria Miro, the irresistible appeal of Spanish sensationSecundino Hernández was in full swing. A couple of hours into the preview, five of his stunning, large-scale abstract paintings, with prices ranging from £25,000 to £75,000, have been sold to public museums and foundations, according to a gallery spokesperson. A significant remark, since it's been often mentioned that Hernández's appeal for private collectors didn't extend to the institutional world.
At Lisson Gallery, Ai Weiwei was benefiting from his fantastic blockbuster exhibition, running concurrently at the Royal Academy of Arts. Ai's Iron Root (2015) sculpture sold for around €500,000 to a Middle Eastern client. Meanwhile, a large diptych by Richard Long of china clay on linen mounted on plywood sold for £100,000-200,000, while a silkscreen on linen by Allora & Calzadilla sold in the region $100,000-200,000. A large painting by Stanley Whitney sold for around $85K, with other few smaller works left on reserve at the end of the first day.
Nearby, David Zwirner, which had presented a stunning and subtle booth, began the preview selling Chris Ofili's Midnight Cocktail for $750,000, as well as a number of works by Carol Bove, Marlene Dumas, and Wolfgang Tillmans. Los Angeles-based David Kordansky sold all the works in its Mary Weatherford dedicated booth by Tuesday noon, with prices in the range of $125,000-215,000. All the works went to institutions, according to a representative of the gallery.
At São Paulo's powerhouse Galeria Fortes Vilaça, two works by the young Brazilian painter Marina Rheingantz sold in the range of $6,000-10,000, while a 2006 photograph by Mauro Restiffe, Mirante #2, sold for a price between $30,000-40,000. Brazilian galleries were indeed in top form at the start of the fair. Vermelho reported the sale of Lia Chaia's Transfusion G duplo (3), which was bought by a UK-based collector for $5,000, and of Odires Mlaszho's book-based piece Martindale – Hubbell, international law directory, 1991 for £10,000.
Martin Aguilera, head of sales of the Brazilian blue-chip Mendes Wood DM, was positively beaming by lunch time. The generous booth of the São Paulo gallery made a strong bid for French artist Neil Beloufa, and it had certainly paid off. The large-scale video installation The Office (2015) had sold for €40,000, another sculpture had changed hands for the same amount, and two smaller sculptures, also by Beloufa, had found new owners, at €12,000 a pop. A beautiful and subtle wall-based sculpture by Paloma Bosquê also sold for $12,000, while a small painting on wood by the coveted Brazilian artist Celso Renato was on reserve for €65,000. "We want to make sure we place it in a good collection or museum," Aguilera told artnet News. "Renato's body of work is small, so it's important for us to care of it."
A similar sentiment was echoed by Ricky Manne at Marianne Boesky Gallery, which had a gobsmacking trio of large-scale Frank Stella works on display, Suchowola I, II, and III, superb hybrids of painting and sculpture dating to 1973 and selling together for a combined price tag of $5 million. "We've had offers today, but we really want to make sure they go to the right place, whether a public museum or private foundation," Manne told artnet News. Meanwhile, five works by Donald Moffett, also inhabiting a beguiling realm between sculpture and painting, had sold for prices between $65,000-85,000 each, while another one was placed on reserve. "We're done here!," joked Manne halfway through the first day.
The collector David Roberts, whose space DRAF has one of the most dynamic and respected artistic programs in the city, was also very active during the first hours of the preview via the director and curator of his foundation, Vincent Honoré. Honoré bought works for the collection by Jimmie Durham (at Mexico's Kurimanzutto, for €35,000), Thea Djordjadze (at Sprüth Magers, for €28,000), Harold Ancart (at CLEARING), Bernd and Hilla Becher (also at Sprüth Magers), and Frank Auerbach (at Marlborough), whose market is experiencing a surge coinciding with his superb retrospective at Tate Britain.
Sprüth Magers had got off to a very strong start. Besides the works sold to David Roberts Art Foundation, the Berlin and London gallery sold a Thomas Scheibitz painting for €35,000 to a US collector, another Djordjadze painting for €28,000, and two additional sculptures by Djordjadze for €24,000 and €26,000, to a US-based collector and a European collector, respectively. The gallery also sold a selection of digital print-based works by Ryan Trecartin, ranging from $18,000 to $45,000.
Parisian gallerist Kamel Mennour certainly pleased the crowds during his London debut with a fantastic booth dedicated to French sensation Camille Henrot. The works on display—gathered under the title "Minor Concerns" and done in preparation for Henrot's forthcoming takeover of the Palais de Tokyo in Paris in 2017—included a large group of watercolors and a stunning large bronze sculpture of Modernist overtones, which sold for €200,00o to a European collector. "I'm really happy," beamed Mennour on the second day, when a number of the works had already found new homes, including a large watercolour displayed on an easel for €60,000. "Frieze London is really different to FIAC, there really is an international crowd here, and the response to Camille's works has been outstanding."
Amid the blue chip furore, smaller galleries experienced slow (but steady) starts. London's The Approach sold an eye-catching mirrored glass sculpture by Gary Webb in the shape of a palm tree for £18,000, while Laura Bartlett sold a large painting by Alex Olson for $42,000 and a blackboard work by young Berlin-based artist Sol Calero for £6,000. Madrid's MaisterraValbuena sold a photo by Maria Loboda, a sculpture by B.Wurtz from 1979 and two works by Néstor Sanmiguel Diest, all in the range of €3,000-15,000.
Meanwhile, at the Focus section, which showcases young galleries, Carlos/Ishikawa had sold a number of cushion-sculptures by Ed Fornieles, in the range of £6,000-12,000, an Instagram-based piece also by Fornieles, for £7,000, and a photograph by Marie Angeletti for £5,500.
By the second day, New York-based gallerist Simone Subal had sold all the displayed works by the young artist B. Ingrid Olson, with prices ranging between $4,000 and $4,500, and had had a number of conversations with institutions about Kiki Kogelnik, of whom she was exhibiting two paintings, Hi ($32,000) and Green Machine ($78,000), as well as the one of Kogelnik's brilliant Hangings ($72,000). "It's going really well," Subal, who is participating in Frieze London for the second time, told artnet News. "I have sold mostly to new clients, from America, Italy, and France, which is really exciting."
For more on Frieze Week, see our Top 10 Booths at Frieze London 2015, our Insider's Guide to the Best and Worst of London's Frieze Week 2015 and be sure to make use of artnet News' 5 Tips for Every Art Fairgoer. Also, see photos from Ken Kagami's saucy fair intervention, as well as the top booths at Frieze Masters. Stay on top of your game with artnet News' 15 Artists To Watch at Frieze London 2015.
==
Kordansky in front of Weatherford's art
Photographer: Linda Nylind/Frieze Art Fair
Now Reading: Billionaires Shrug Off Volatile Markets for Art Shopping Spree
Billionaires Shrug Off Volatile Markets for Art Shopping Spree
Katya Kazakina
artdetective
October 14, 2015 — 10:00 AM PDT
`You'd think there are no troubles' in world, Eli Broad says
Murakami sells for $1 million; Stella sought by three buyers
Art dealer David Kordansky checked his wristwatch nervously. It was 45 minutes into the opening of the Frieze Art Fair and his booth, with large abstract paintings intersected with neon light tubes by Mary Weatherford, was mostly empty.
"I am waiting for the individuals these paintings are on reserve for to show up," Kordansky said on Tuesday, tapping his timepiece. "Is there a line outside?"
Kordansky didn't need to worry. Neither the 15-minute line snaking through the fair's Regent's Park location nor the roiling financial markets could deter the international jet set from its annual art shopping spree in London. The displayed five paintings by Weatherford sold at the VIP preview, with prices ranging from $120,000 to $220,000.
Billionaire Eli Broad, jeweller Laurence Graff, heiress Nicky Hilton Rothschild and actor Benedict Cumberbatch joined the throngs of established and wannabe collectors who descended on Frieze and its nearby sister fair, Frieze Masters, on this crisp October day. The fair is the first test of the art market since auction houses sold a record $2.7 billion of art in New York in May, and after the stock market rout in August and September that rattled global investors.
Broad, who navigated the aisles in a wheelchair following back surgery, said he was cautious about the financial markets and bullish about the art market.
"Russians are in trouble. Brazil is in trouble. Commodities are way down," Broad, who opened his $140 million private museum in Los Angeles last month, said in an interview. "The art market is very strong. You'd think there are no troubles anywhere in the world."
Established in 2003, Frieze has become one of the world's leading art fairs, competing with Art Basel and expanding geographically with a Frieze New York edition in May. The event now anchors London's biggest art week of the year, with several concurrent fairs, auctions and exhibitions at galleries and museums. Frieze runs through Oct. 17; Frieze Masters until Oct. 18.
"This is the prime time in London," said Pilar Ordovas, whose gallery on Savile Road organized an exhibition of sea-themed works, ranging from a fragment of a Roman sarcophagus to Damien Hirst's sculpture of a pickled shark, priced in the region of $10 million.
"Galleries, museums and auction houses are trying to put their best shows," Ordovas said. "There is a much greater concentration of international collectors in London now than at any other time of the year."
Frieze, which has 164 exhibitors, shows works by living artists. New York's Anton Kern Gallery's booth had a solo show by American artist Chris Martin, including recent paintings made with neon colors and glitter, and drawings dating to 1977. Buyers snapped up three paintings, priced at $45,000 to $55,000 and 10 drawings, at $4,500 and $5,000.
Sculptures by Huma Bhabha
Photographer: Linda Nylind/Frieze Art Fair
Nearby, another New York gallery, Salon 94, had a solo presentation of totem-like sculptures, photo collages and water colors by Huma Bhabha. A carved cork sculpture sold for $195,000; and another totem, cast in bronze though looking like its cork neighbor, sold for $275,000.
Cumberbatch, whose interpretation of Hamlet is drawing crowds to London's Barbican theatre, strolled with his wife, Sophie Hunter. The couple stopped by Gagosian Gallery to view a $600,000 sculpture by British artist Glenn Brown, which resembled a tower built with brush strokes.
Paintings by Stanley Whitney, who is the subject of a retrospective at the Studio Museum Harlem in New York, were offered by several galleries. London-based Lisson Gallery sold one large, colorful grid painting for $80,000; a smaller canvas sold for $60,000 at Galerie Nordenhake, with branches in Berlin and Stockholm.
"Sold," Timothy Blum, co-owner of Blum and Poe, based in Los Angeles, Tokyo and New York, kept telling clients inquiring about a $600,000 painting by Yoshitomo Nara. The gallery also placed a new painting by Takashi Murakami for $1 million.
Marianne Boesky Gallery paired the works by mid-career artist Donald Moffett with a 1973 trio by Frank Stella, a 79-year-old American artist whose retrospective opens at the Whitney Museum of American Art on Oct. 30.
The two-person booth paid off as the gallery sold six of the eight cut-out sculptures by Moffett, priced at $65,000 to $85,000. Three buyers — one European foundation and two private collectors — wanted Stella's "Suchowola I, II, and III," priced at $5 million.
"It's a very safe place to go," said Marianne Boesky. "You are buying quality, not something untested."
Across Regent's Park, Frieze Masters offers historic material presented by 130 art dealers. Several Old Master galleries placed marble busts and gold-ground paintings next to fashionable contemporary art icons.
Old Master and contemporary art "belong in the same room," said Richard Feigen, who hired interior designer Juan Pablo Molyneux to give his booth the feel of an Italian palazzo where Pablo Picasso hangs next to Renaissance paintings. Feigen's early sales included a $35,000 collage by Ray Johnson and a $75,000 solid gold trash can by Pop artist James Rosenquist.
Several art dealers staged elaborate displays. London's Helly Nahmad gallery's booth was a set worthy of a West End production — to complement the gallery's solo booth of Jean Dubuffet paintings.
Asylum Cells
Asylum Cells
Photographer: Mark Blower/Frieze Art Fair
Designer Robin Brown re-imagined asylum cells Dubuffet visited in France and Switzerland in the 1940s. The artist was inspired by art created by the patients, coining the phrase Art Brut to describe their "primitive" style. The booth's walls are covered with scribbles, drawings and doodles. A moody 1940s French song plays in the background.
Three of the eight Dubuffet works were sold, with prices ranging from $650,000 to $3.5 million.
=====
Frieze London Vernissage's Throngs Defy Market Trends
Oct 14th, 2015 4:27 am
Frieze London opened to throngs of VIPs on Tuesday, ringing in the 13th edition of the U.K.'s biggest art fair—with 164 galleries from 27 countries. This year marks the fair's first edition under the direction of Victoria Siddall, who was tapped from her post as director of Frieze Masters to helm all three Frieze Fairs, including spring's Frieze New York.
By all accounts, Tuesday's preview was among the busiest in recent memory. "It's packed this year," said collector Kamiar Maleki. "I've never seen so many people at Frieze." Maleki was among art–world insiders on the hunt for works by the crème of emerging art, in keeping with Frieze's long-held dominance in the category. But he was also quick to note pundits' apprehensions about the health of that market segment as the busy fall season commenced. For Frieze, at least, he speculated only positive results were ahead: "We'll have to see with the sales later, but it seems like it's definitely booming."
Booming in noise-level, at the very least. Such was the din during the peak afternoon hours that works incorporating subtle elements of sound, such as Inge Mahn's Stuhlkreis (2000), on offer at Berlin and Paris's Galerie Max Hetzler, could barely make their presence known. The kinetic sculpture created by the relatively unknown, 70-year-old Mahn sees one wine glass placed on each of the 17 plaster-covered wooden chairs placed in a three-meter circle, while two crystals slowly rotate on opposite ends of a motorized aluminum tube, tapping the glasses to create a sonic effect. According to Paris director Samia Saouma (also Hetzler's wife), the dealer rediscovered the artist at a museum show in Germany and recalled seeing her work years before in Harald Szeemann's Documenta 5 in 1972.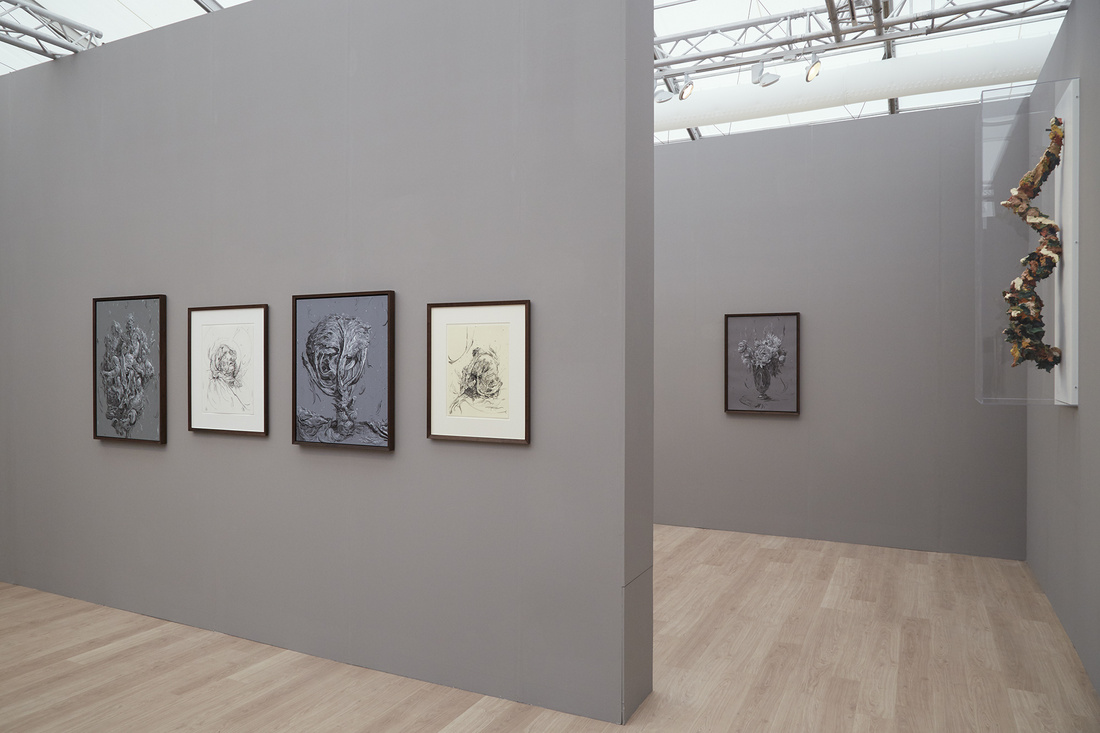 The work was unsold as of Tuesday evening. But a large-scale Günther Förg from 2008 had been sold to an Asian collector for €300,000, Albert Oehlen's U.D.O. 7 (2001/2005) to an American for €250,000; an Edmund de Waal went to a French collection for €75,000; and a Raymond Hains to a European for €70,000. An above-seven-figure painting by Glenn Brown—who's been given a solo at Gagosian's front-and-center booth at Frieze's entrance—was on reserve.
At least one work did crest into the million-dollar range during Frieze's preview: a $1.2 million Damien Hirst, titled Holbein (Artist's Watercolours) (2015), from London's White Cube. It's a fitting note for the fair. The YBA's 1988 show "Freeze," including Sarah Lucas, Gary Hume, and Mat Collishaw, among others, served as inspiration, in part, for Frieze founders Matthew Slotover and Amanda Sharp back in 2003. And just last Thursday, Hirst opened his own private gallery in London's Newport Street with a show of John Hoyland. Works by Andreas Gursky, Antony Gormley, Theaster Gates, and Christian Marclay were also acquired from White Cube's stand on opening day.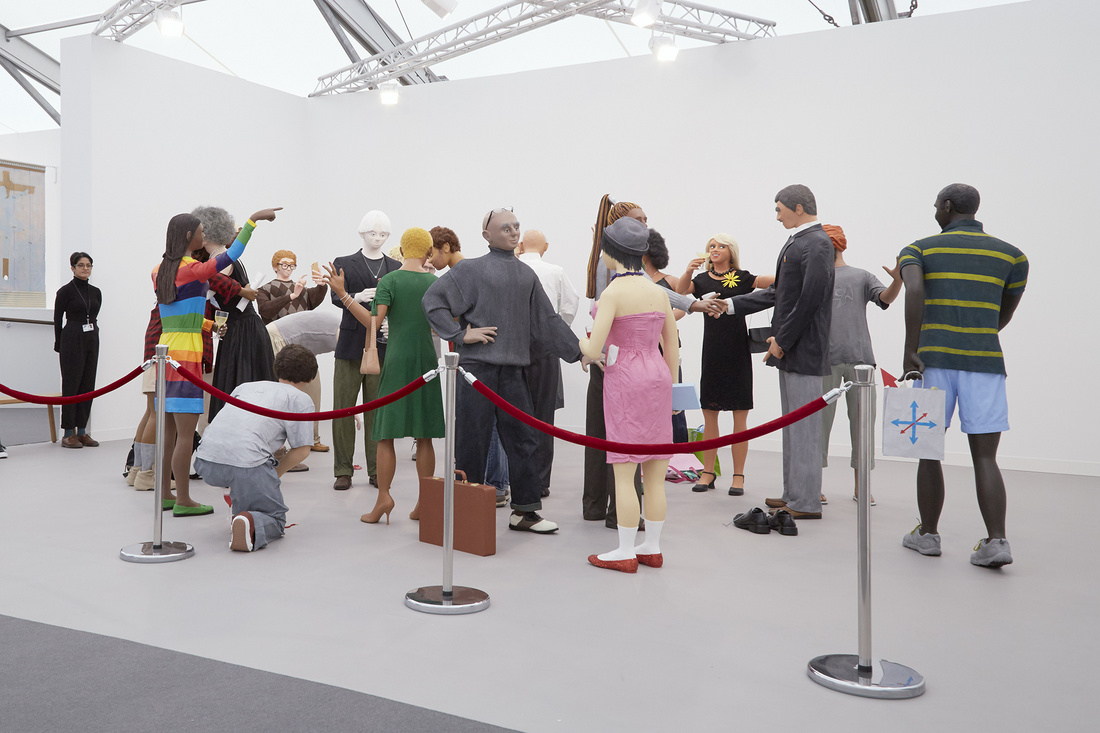 "It's going incredibly well," said fellow London mainstay Maureen Paley. The gallerist was keeping mum on what exactly from her booth had found its way into collectors' hands (save for saying that "several" had). However, she noted that viewers and exhibitors alike were once again impressed by the "real sense of openness in the fair this year," and the "generosity in terms of how everything was laid out," no doubt thanks to continued refinements brought to the fair's layout by Universal Design Studio, the firm that revamped Frieze London last year.
Paley shows new work by Liam Gillick (currently with a show in her Bethnal Green gallery), David Salle, Wolfgang Tillmans, and current art–world darling Michael Krebber, among others. "I've known him for 30 years and I've been working with him since the '90s, but he's developing in a very strong way at the moment," said Paley of Krebber. Of particular note of the works on show is a sculpture, Pitch (2014), by photographer Anne Hardy, who is "at an exciting crossroads," according to Paley. The artist, who has long photographed models and staged environments, recently began displaying these structures as sculptures in and of themselves, as well as experimenting with works employing audio.
Outside of Focus, Frieze London's section for young galleries and emerging artists, new media gets relatively little play in 2015. Pilar Corrias, whose gallery is among a handful to show video, sold most of her solo booth of works by Ken Okiishi. The works—single screens priced at $35,000 and diptychs at $50,000—pull their source material from '80s VHS tapes and more recent television series, which play on flat screens swiped with expressive brushstrokes. "The simplest way you can record a gesture is by making a brushstroke," said Corrias. "Another is through video. But both the brushstroke and the footage don't convey the reality of the movement. Nothing is adequate."
Corrias's early success aside, the majority of work at Frieze this year falls well within the dominant art world trends of the moment: loose and line-driven figuration, ceramics, and remixed readymade sculpture perhaps the most prevalent among them. The fair remains undeniably fresh–faced in the works it puts forward. But it's also high on pedigree—like London, more a young royal than the rough-necked renegade it once was. On one hand, that appearance could be due to the complacency that the art world's proliferation of highly curated presentations, new young artists, and recently rediscovered old ones can quickly induce. But there is also a demand-side component that—along with the rising tide of the market that pushes prices for young contemporary ever higher—would indicate that this is a real, rather than perceived, shift.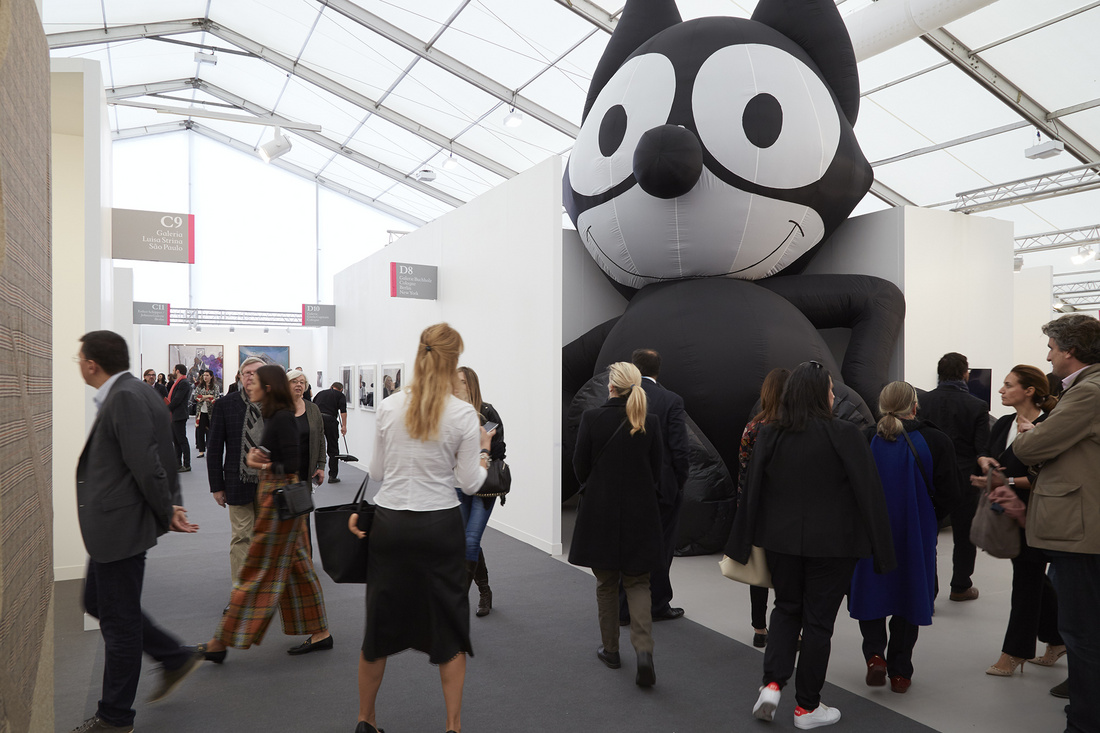 "Frieze was very cutting edge in the beginning. I came here to look at things that were so advanced compared to what you would see at Basel or FIAC," recalls French collector Sylvain Levy, standing across from ShangART's booth. "But now, the people are asking for something different. In times like we are currently in, which are not so easy, people are looking more to be reassured than to be challenged." That means artists with a solid lineup of upcoming museum and gallery shows and a certain level of market momentum, among other factors often pitched. "The median price of contemporary art is quite high now. So it's not just an impulse buy," Levy continues.
Some would likely want to mark this as a failing on Frieze's part, but it's not. Frieze remains the most variegated of the blue chip fairs—by far. It is cutting edge, but it's cutting edge at a time when everything, from the High Street to Regent's Park, is a little bit more the same than it once was.
===
FINANCIAL TIMES LONDON
The Art Market
October 16, 2015 4:50 pm
The most frantic week of the year in London opened this Monday with a VIP preview for the Pavilion of Art and Design (PAD), the French-organised fair combining mainly modern art and design, and with a strong showing of this year's hottest ticket, modern Italian art. The fair's tent is cunningly sited in Berkeley Square, within a wallet's throw of the Connaught and Claridges, and its opening attracted the hordes of art world denizens in town for Frieze.
"We have seen French, American, Russian and Brazilian collectors," said Andrew Duncanson of the Swedish gallery Modernity. Among them was Sheikh Hamad Al Thani, who has a home nearby, jeweller Laurence Graff and fashionista Valentino.
Italian art sold well, too: Mazzoleni (with a marvellous Alberto Burri show in its nearby gallery) reported placing the artist's "Rosso Plastica" (1966) for around €2m. "This fair is very successful commercially; dealers and collectors buy here for their homes, it's convenient to visit on foot, and it's on a human scale," said photography dealer Michael Hoppen, who sold Sarah Moon's "Fashion 4" (1999) for £35,000. PAD closes Sunday, October 18.
"Welcome to Purgatory" says a slogan scrawled on the blacked entrance corridor to Frieze this year. This is one of the projects at the fair, thanks to US artist Lutz Bacher. On Tuesday, invited guests quickly tripped along the sinister entry and pushed through inky plastic fronds into the brightly lit and spacious fair, which has evolved far beyond its gritty, edgy beginnings.
Today's Frieze is a slick, professional affair exemplified by the Gagosian stand. Packaged in a smart grey booth is an impressive solo show by Glenn Brown, from highly detailed drawings ($75,000-$120,000) to sculpture ($300,000- $450,000), with a number of the drawings immediately sold.
Some (but not all) admired Sadie Coles' booth featuring a giant ostrich/ aubergine sculpture by Darren Bader and a large Laura Owens painting that collector Donald Marron, on his first visit to Frieze, just missed out on buying — by five minutes, he said.
"Dealers are definitely making extra efforts to curate their booths, and the market is getting so competitive that they have to — to stand out," said art adviser Lisa Schiff after trawling the two fairs and making manifold purchases. She admired the Coles stand, as well that of Mary Mary and Hauser & Wirth, with a forest of small sculptures on plinths: the gallery said a number sold in the first hours, citing a Phyllida Barlow for £25,000.
. . .
Unanimity reigned about the marvellous Frieze Masters, which opened the same day as Frieze London — this is the strongest year ever for the classic fair, which features a number of "crossover" displays. Standouts include the collaboration between Hauser & Wirth and Moretti Fine Art, spanning the 14th to the 20th centuries. Helly Nahmad has reimagined the lunatic asylums that inspired Jean Dubuffet and his espousing of Art Brut. Also on the stand are for-sale Dubuffet works, one asking for £750,000. The usually classic Simon Dickinson celebrates Cubism with a re-creation of Léonce Rosenberg's 1930s "Galerie de l'Effort Moderne".
Sales at Frieze Masters are inevitably slower, but gallery Eykyn Maclean immediately sold "Propaganda" (1975-78) by Mario Schifano from its "Pop Dialogues" display price in the region of $750,000), while Stephen Friedman found a US collector for a hanging sculpture of chains by the African-American Melvin Edwards, for about $300,000. Frieze London ends today, October 17; Frieze Masters runs until Sunday.
. . .
Despite all this, the sheer number of events on in London this week and the quantity of art for sale rattled dealers — particularly on the second day of Frieze, which was quiet after the storm of the opening. As well as the fairs there were plenty of auctions: on Wednesday Christie's and De Pury disposed of the rambling Lambert collection, raising just under £15m.
However, Phillips's apparent triumph with its "white glove" sale of contemporary art on Wednesday night needs qualifying. Of the 36 lots on offer, 18 came from the estate of the "Baron of Botox", Dr Frederic Brandt, who ended his life earlier this year. The cosmetic surgeon's tick-the-boxes compilation of brand-name artists was guaranteed by a third party, so in effect the works were pre-sold. Nevertheless, Phillips achieved £31.5m for its sale — double its tally in October last year — and set new price highs for Yoshitomo Nara (£1.9m), Mark Bradford (£3.8m) and Danh Vo (£602,500).
. . .
Chinese collectors were in evidence in London this week — one group even visited 1:54, the African art fair. Retail billionaire and strong promoter of Chinese art Adrian Cheng picked up works at Frieze by Alicja Kwade, Do Ho Suh and Trevor Shimizu. As active was the Indonesian-Chinese Budi Tek, who opened the vast Yuz museum in Shanghai last year. Accompanied by adviser Jeffrey Deitch, he bought three paintings by Mira Dancy at Los Angeles's Night Gallery, for a project show planned for Yuz. Tek also wanted a number of works by Camille Henrot from new exhibitor Kamel Mennour from Paris. Henrot's pastel-coloured figurative paintings and a sculpture, priced at €22,000-€150,000, sold out at the opening, with Tek snaffling just one. But he consoled himself later with a wine tasting at the Royal Academy, featuring, among other vintage tipples, a 2006 Romanée-Conti.
. . .
©Henri Garat
Renowned art collector, financier and philanthropist Donald Marron, founder of Lightyear Capital, offered advice for collectors in a talk he gave this week. "Firstly, you need to have a passion for art," he said. "Then you need to do research — lots of it, books, the internet — there is so much information available today. You need to be in touch with knowledgeable people: museum curators, and also dealers. And before buying something, make sure you've seen all the available works by an artist. There's nothing worse than buying something and then later seeing a better work somewhere else."
. . .
Finally, congratulations to Fiac director Jennifer Flay, who was decorated this week in Paris with the Légion d'Honneur by foreign minister Laurent Fabius. New Zealand-born Flay is acknowledged as the driving force behind the success of the fair, which she has run since 2004. Its off-site event Officielle opens this Tuesday and Fiac proper on Wednesday, running until next Sunday.
Georgina Adam is art market editor-at-large of The Art Newspaper
Photographs: Jason Mandella; Henri Garat
==
An Insane Asylum inside Frieze Masters Unlocks an Untold Niche of Art History
Oct 14th, 2015 9:08 pm
There are perhaps few better exponents of art at the fringes of sanity than the late French dramatist Antonin Artaud. "Words say little to the mind… But space thundering with images and crammed with sounds speaks," Artaud famously wrote in 1933.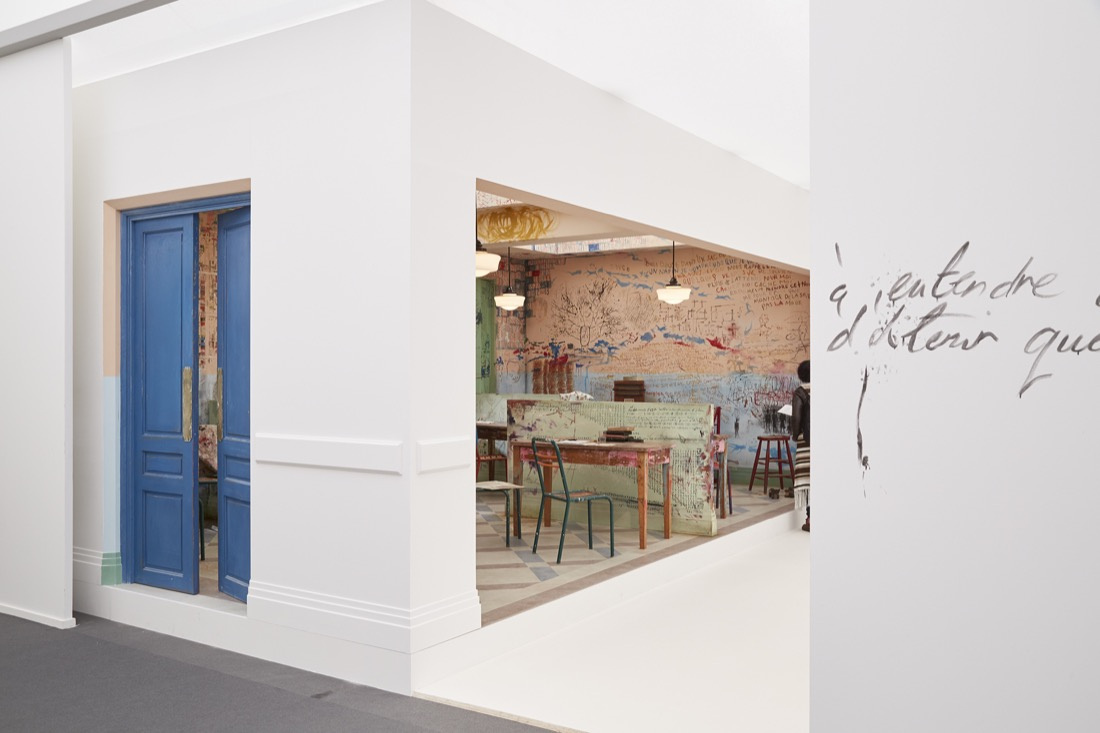 These sentiments ring true when considering the 2015 Frieze Masters booth of Helly Nahmad London, no doubt the most talked-about sight across both Frieze fairs on their first two days. The stand is split halfway down the middle, presenting works by French painter and sculptor Jean Dubuffet (a friend and contemporary of Artaud's) opposite a reimagining of three interiors—mocked-up versions of spaces in sanatoriums and asylums that Dubuffet visited while in search of inspiration in 1945. Staring upon the mental wreckage of people's lives, visitors are invited to take in walls scrawled with impromptu images; textbooks and dolls belonging to imagined patients; medication contained in cabinets; invisible convalescents' sleeping quarters and bedspreads. Separated from the rest of the fair by tall white walls, viewers also find themselves transported by period music.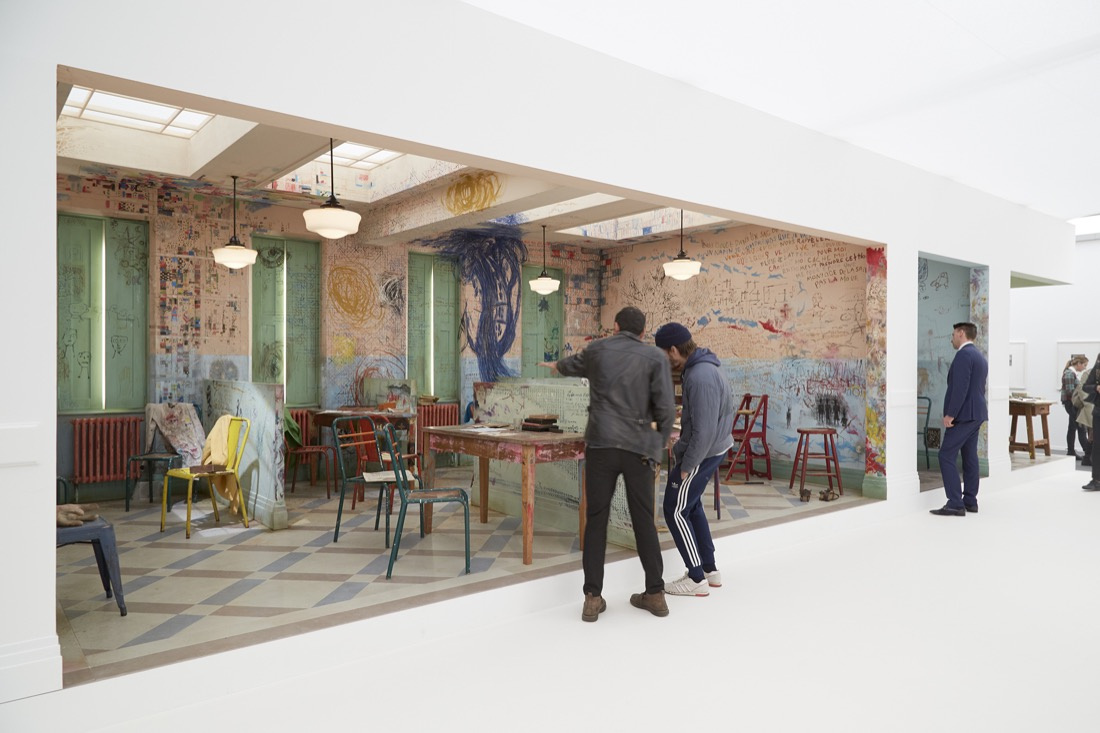 The aim is to juxtapose Dubuffet's work—tessellated, almost cubist renderings of scribbled, segmented figures—with the scenarios that inspired it. "I think it's fantastic to be able to reconnect the works we wanted to show with the original source of that inspiration," says gallery spokeswoman Georgia Gilbert. Dubuffet coined the term "Art Brut," for which he is most famous, after visiting places such as those recreated here. These visits also heightened Dubuffet's interest in German psychiatrist Hans Prinzhorn's 1922 book Artistry of the Mentally Ill, which showcases the work of 10 "schizophrenic masters." This art form, claims the gallery's official accompanying material, "embraced the outsider, including the 'primitive,' the eccentric, and the untrained." Dubuffet built his career around such sentiments, eschewing painterly tradition for a more frenetic style.

"Dubuffet naturally falls into the territory of art outside the mainstream, so we wanted somehow to cover his interest in that," says production designer Robin Brown, who worked with producer Anna Pank on the booth. "When Dubuffet went to meet Prinzhorn and visited various asylums—that seemed like the perfect time to set our installation, because it was just on the cusp of Art Brut. We didn't want to just put Dubuffet opposite some outsider art, as it doesn't explain anything."
Brown's aim, he says, was to "create a backstory," ultimately to entice people to stick around. The designer achieved this at last year's booth with his staging of a fictional 1968 collector's apartment, where real art merged with a faked interior. Fontana gaped above a desk and ashtray; Picasso's sharp elbows tried to make room between socialist-style posters. This year is arguably more conservative. The booth's art is displayed separately against a white background, with no side-by-side mixing of the factual and fictive.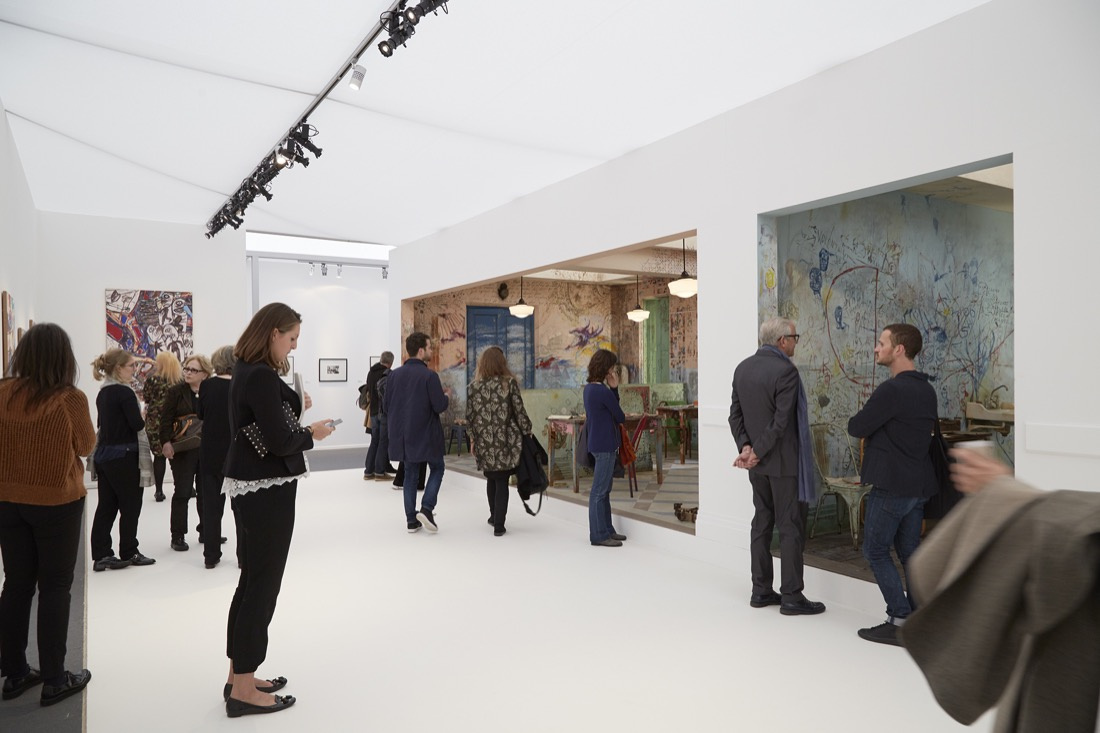 So how accurate is Brown's recreation? "We had a picture researcher in Paris and we spoke to some asylums," he says. "Patients did decorate their cells and it felt appropriate that you should see someone's vision. The main room is more of a fiction, though, the idea that they expressed themselves all over the walls."
While its motivation is apparently commercial, the booth asks complex questions about what it is to be inspired by those who lack equal agency. Would it be more acceptable if Dubuffet, like Artaud, was mentally ill, and felt that an appreciation for "the living whirlwind that devours the darkness" (as Artaud wrote) was a necessary part of life and art? And what does it mean to be spectators to this—especially those who are economically buying into it?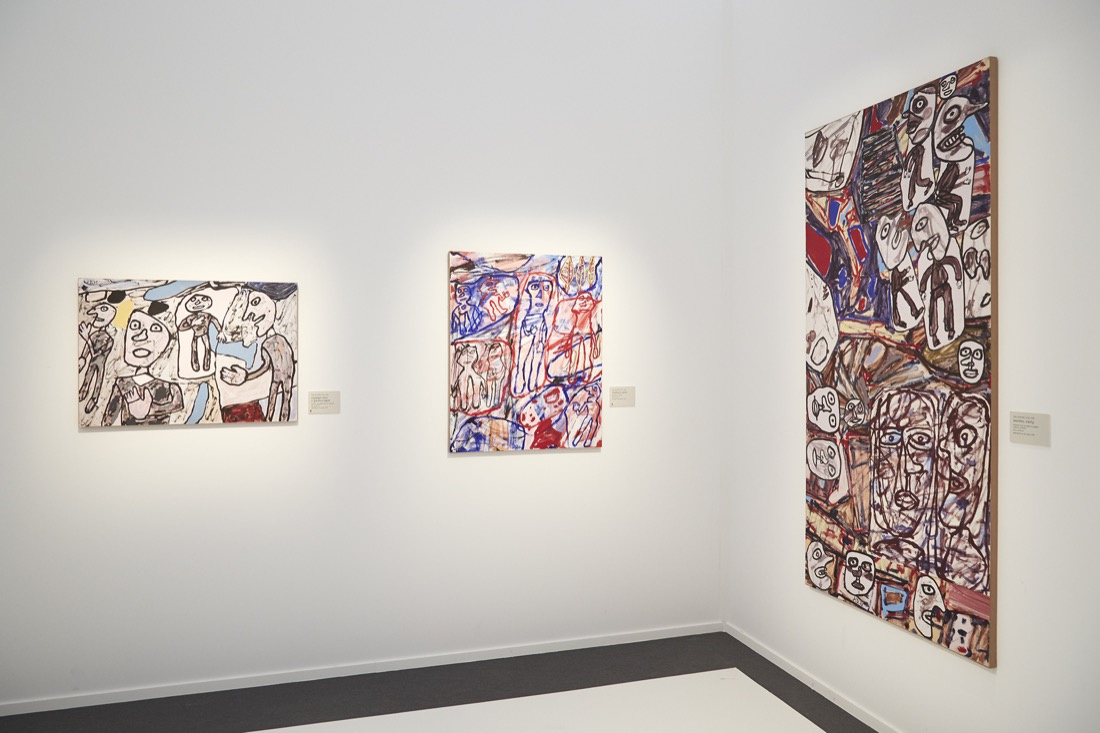 "At some point these artists and the doctors involved sort of exploited the patients," says Brown. "And some of the patients' conditions were encouraged by doing mad things. André Breton and Dubuffet were both friends with Artaud, who committed suicide. You could say that encouraging someone like that to produce more tormented art could contribute to his illness." There is also the flipside, he says, referring to the snobbery among those who don't believe outsider art should be considered within the art world's traditional firmament.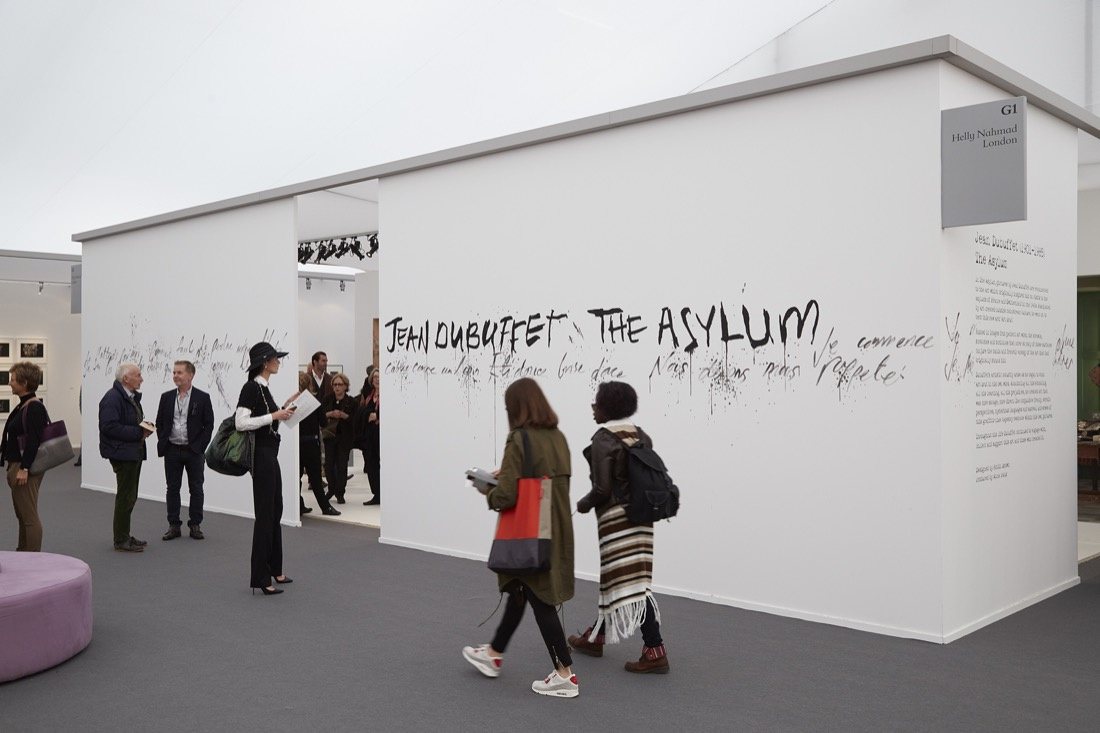 How should we parse Dubuffet's influences, then, while looking on ourselves? This year, the booth is less accessible, but arguably more challenging and brave in the uncomfortable questions it poses. "I'm not aware that any of the artists involved in this ever donated money to mental health or helped mental health in any way," concludes Brown. "But then Dubuffet did spend his entire life promoting and collecting their work. So there is some balance."
—Rob Sharp